Urban and Community Forestry
Governor Jay Inslee has proclaimed April 12 as Washington State's Arbor Day. Trees offer so many benefits to our life. Remember to take care of your trees because they are a longterm investment.
The Washington State Urban and Community Forestry Program (UCF) works to educate citizens and decision-makers about the economic, environmental, psychological and aesthetic benefits of trees and to assist local governments, citizen groups and volunteers in planting and sustaining healthy trees and vegetation wherever people live, work and play in Washington state. Our mission is to provide leadership to create self-sustaining urban and community forestry programs that preserve, plant and manage forests and trees for public benefits and quality of life.
The program provides technical, educational and financial assistance to Washington's cities and towns, counties, tribal governments, non-profit organizations, and educational institutions. Explore the links below to learn more.
View the latest issue of Tree Link Newsletter to learn up-to-date information on the UCF Program.
Arbor Day and Tree City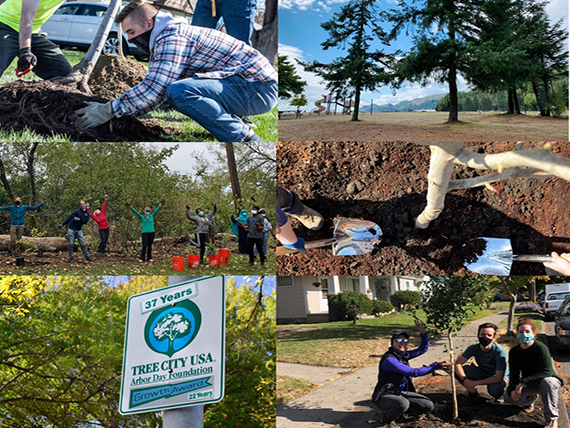 Washington State Arbor Day is always celebrated on the second Wednesday in April. Did you know that proclaiming Arbor Day at the local level can help your community earn the Tree City USA designation? Recognizing Arbor Day is one of four requirements for earning this award. To explore a map of the current Tree City USA Communities in Washington state, click here.
Washington communities and universities that have earned the Tree City USA or Tree Campus USA award are once again eligible for reimbursement by DNR for the planting of at least one landscape-sized Arbor Day tree. Eligible communities are advised to download the $500 reimbursement form and follow the instructions.
The Arbor Day Coloring Book is available here to learn why people need trees and trees need people.
Grants and Financial Assistance
Harmful bark disease is found on maple trees. See how grant funding is helping with reseach and learn how easily you can get involved.
The DNR Urban and Community Forestry (UCF) Program offers grants to cities and towns, counties, tribal governments, non-profit organizations, and educational institutions to improve the health of community forests and develop local urban forestry programs. Since 2008, in partnership with the United States Department of Agriculture (USDA), UCF has administered over 200 pass through grants for tree inventories, tree canopy assessments, urban forestry plans, tree planting, and educational projects, totaling over $2,600,000.
We are currently accepting applications for the 2023-2024 Community Forestry Assistance Grants. Grants are available to support the planning, growth and maintenance of trees in Washington's urban areas. The total funding amount available this year is $350,000. Grant requests may range from $10,000 to $40,000. Match requirements vary by project location.
Eligible applicants include 501c3 organizations, tribes, cities, towns, counties, educational institutions, and special taxing districts (conservation districts, parks districts, school districts, etc.) in Washington state.
Applications are due by 4 p.m. local time on March 31, 2023. Applications must be submitted electronically through the Washington Community Forestry Assistance Grant Submission Form. Applications will be timestamped upon submission.
Check out this map that shows our grant investments since 2008.

The following is an overview of our financial assistance programs in more detail:
Educational Assistance
Regional Seminars: Seminars are roughly four hours of professional presentations on topics relevant to urban forestry. Seminars are mostly indoors, free to participants and typically planned months in advance in partnership with host cities. To learn more about this year's seminar offerings, please visit our program's electronic newsletter, Tree Link.
On-site Staff Training: Trainings are roughly one to two hours of instruction covering hands-on skills for tree care. These are available to program constituents by request as DNR staff schedules permit.
Stop! Don't Top That Tree: The Washington State Department of Natural Resources (DNR) is promoting an anti-tree topping campaign to increase public understanding of proper tree care. To find out more please see our Anti-Tree Topping Webpage.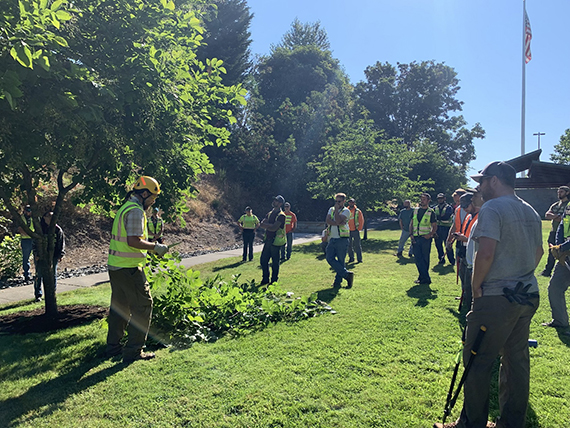 The above photo shows a technician pruning a tree.
Technical Assistance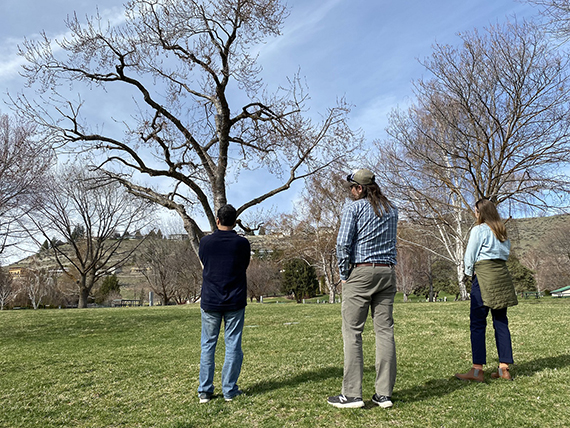 Urban and Community Forestry staff are available to provide technical assistance to local governments, 501(C)3 non-profits, tribes, and educational institutions. Examples of technical assistance include: participating in the review, evaluation, and redrafting of tree ordinances; providing consultation on urban forestry strategies, plans, policies, and practices; helping city staff triage and prioritize program needs, providing training to field staff on topics of pruning, planting, or identification of tree defects; giving presentations to city councils, planning commissions, or civic organizations; and working with citizen tree boards or committees on improving effectiveness. Not sure if the needs of your city fit into any of these categories? Inquire by email at urban_forestry@dnr.wa.gov.
Washington Community Forestry Council
The Evergreen Communities Act
The Washington State Legislature built upon the Evergreen Communities Act in 2021 when it passed House Bill 1216, not only revitalizing a law first passed in 2008, but expanding the authority of DNR to assist Washington cities, counties, Tribes, and other public bodies to establish and maintain their urban and community forests.
The Legislature initially passed the Evergreen Communities Act in 2008, but the financial crash later that year left the bill unfunded for more than a dozen years. Governor Jay Inslee allocated $2.68 million for HB 1216 in his operating budget for the 2021-2023 biennium. This funding has allowed DNR to add new positions to the UCF program, and to increase the amount of its annual grant awards sevenfold.
The legislation also mandates at least 50 percent of the funding or assistance provided by HB 1216 be used to benefit vulnerable populations in or within one-quarter mile of highly-impacted communities, as defined by tools such as the Washington Environmental Health Disparities Map. The department has awarded more than $250,000 as of July 2022 to projects supporting environmental justice efforts across Washington.
Ongoing and future work associated with HB 1216 and the Evergreen Communities Act includes: completing a statewide inventory of urban and community forests; identifying priority regions for accelerated implementation of urban forestry tools and programs; establishing and implementing criteria for awarding an Evergreen Community designation to deserving applicants.
Urban Tree Learning Center