Wildfire Training Academies

Interagency Wildland Fire Training Academies
DNR hosts interagency fire training academies to provide quality wildland fire training at no-cost to interagency firefighting partners. Each academy uses local, state and federal firefighters' expertise to teach the courses.
 
The focus of the academies is to provide training in coordination with cooperating firefighting agencies to increase capacity and interagency coordination. 
 
The academies will offer a suite of courses in essential wildland firefighting skills, from basic to advanced levels. The courses will meet the National Wildfire Coordinating Group (NWCG) standards, and upon successful completion of the class, a student will receive a certificate. To simulate the operational organization of a wildland fire response incident, the academies operate under the Incident Command System (ICS). This allows firefighters to become familiar with ICS and assists them with future deployments.
 
This training allows agencies responsible for responding to wildfires the opportunity to train together before fighting fire together, building trust with one another and introducing common language throughout all agencies.
 
The academies are a joint operation of DNR, USFS, county fire districts and tribes. Firefighters train in basic and advanced wildland firefighting skills.
---
Firefighter Jobs and Providing Equipment/Services
If you are not affiliated with a fire agency in Washington, and have an interest in seasonal firefighter positions, visit our
Firefighter Jobs
page.
If you are interested in providing professional resources (like heavy equipment, fallers and water tenders), want to establish an agreement with DNR, and need to obtain annual operator safety training, visit our
Provide Equipment and Services
page.
---
What do the academies look like for 2021?
The Academy Program is primarily focusing on virtual training for 2021 and limiting in-person training to the required field components of courses. The courses that the academy sessions will deliver for 2021 are:
Firefighter Type 2 – S-190/S-130/L-180
Firefighter Type 1 – S-131
Single Resource Boss – S-290, S-230
The required field component for the S-130 courses will consist of single day trainings at various locations in the state. All other content will be delivered virtually –through a combination of self-paced online sessions and virtual instructor-led training. At this time, there are no fire camps planned for the 2021 academy sessions.
We are assessing the feasibility of adding other 200-level courses as we move into 2021. If we are able to offer additional courses, the schedule will be updated here with new session information.  
Who can participate?
If you are affiliated with local, state, federal or tribal firefighting agencies who participate in wildland fire suppression, you are eligible to register for an academy.
Course Schedule
In 2021, the courses will be offered in sessions from February through June.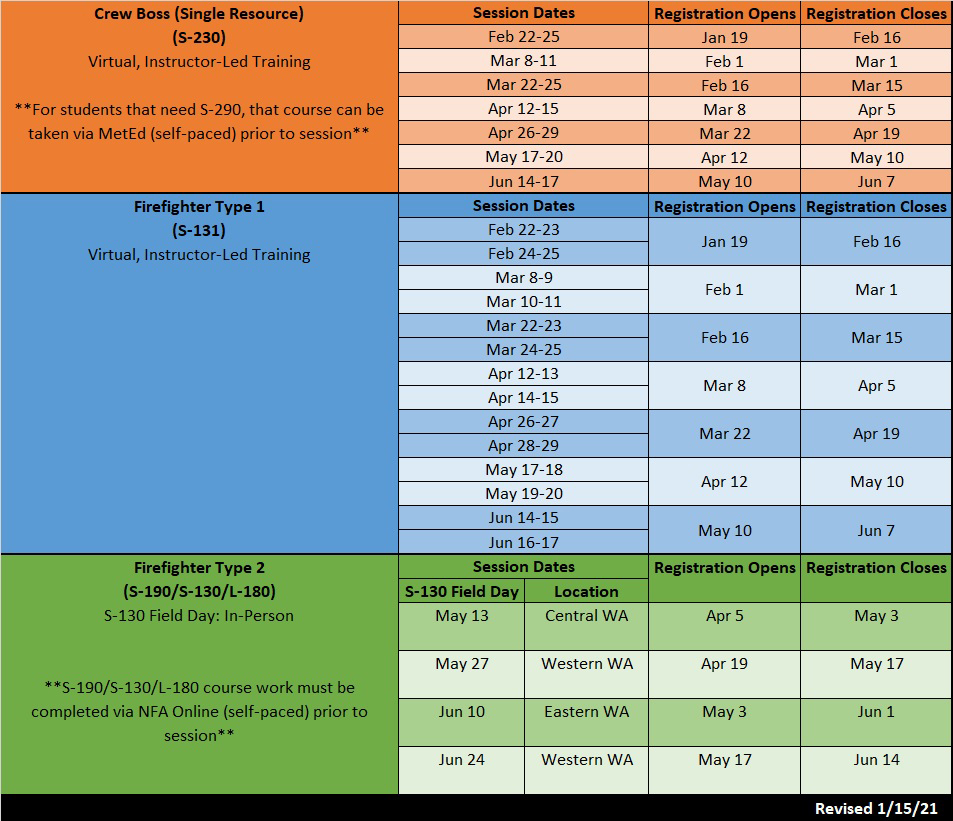 Registration Information
Registration for the first session will open in January, and continue on a rolling basis with each session opening five weeks before the session start. Links will be posted here when registration opens.
If you have specific questions about any of the academies, contact Brian Looper 360-902-1748 or
brian.looper@dnr.wa.gov
.