Harbor Areas in Washington State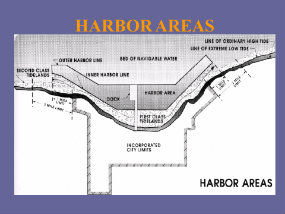 Article XV  of the Washington State Constitution directs the legislature to appoint a Harbor Line Commission whose duty is to locate and establish harbor lines in the navigable waters of all harbors, estuaries, bays and inlets of Washington in front of cities or within one mile of the city boundary on either side. Harbor areas are to be reserved for landings, wharves, streets, and other conveniences of navigation and commerce. There are currently 27 harbor areas throughout the state.
Harbor Areas In Washington State 
Aberdeen, Anacortes, Bellingham, Blaine, Bremerton, Cosmopolis, Edmonds, Everett, Gig Harbor, Hoquiam, Ilwaco, Kalama, La Conner, Lake Union, Lake Washington, Marysville, Olympia, Port Angeles, Port Orchard, Port Townsend, Poulsbo, Seattle, Shelton, Snohomish, Steilacoom, Tacoma, Vancouver
The Harbor Line Commission also is charged with establishing new harbor lines or relocating existing lines as deemed appropriate. DNR is responsible for responding to requests for relocating harbor lines. This includes reviewing the existing conditions of the harbor lines, preparing harbor line relocation alternatives, conducting State Environmental Policy Act (SEPA) review of alternatives, and making recommendations to the Harbor Line Commission.