Preparing an Application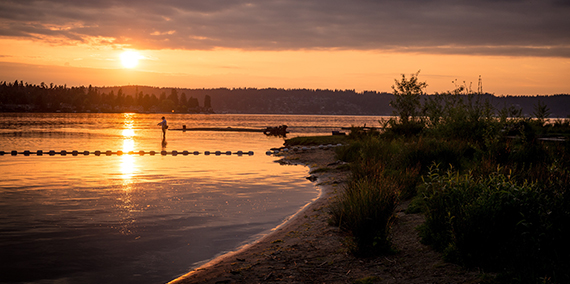 Lake Sammamish State Park. Photo courtesy Washington State Parks and Recreation Commission (State Parks)
DNR will accept
applications
to nominate a parcel for transfer in the 2025-27 biennium
between August 1 and September 30, 2023
. Send applications to
dnrtltprogram@dnr.wa.gov
. Applications must be received by
5 p.m. September 30, 2023.
How do I nominate a parcel?
To nominate a parcel for the Trust Land Transfer (TLT) program, you need to fill out and submit a parcel
application
on or before the application deadline. DNR recommends that you review the
TLT Program Manual
before you begin, and that you work closely with the
receiving agency
to complete the application. The application must be signed by the applicant and the receiving agency.
Along with the application, you will be asked to submit the following:
A map of the proposed parcel (required). Include section boundary lines for geographic reference. DNR will create a polygon in its GIS data system based on the information you provide and may contact you to verify that the polygon is correct.
A letter of intent from the receiving agency to accept and manage the parcel (required).
Letters of support from the community, receiving agency, advocacy groups, neighborhood associations, or others. Letters of support are optional but recommended. If you need more time to obtain letters of support, they can be submitted separately from your application. Letters should be sent to dnrtltprogram@dnr.wa.gov no later than April 1, 2024.
Who can help me with my application?
Names, email addresses, and phone numbers of land transaction specialists are listed under Contacts on this page.
How long does the TLT process take, and when are applications due?
It takes approximately two years for a parcel to move from its nomination, when the application is turned in, to funding, when the Washington State Legislature sets a funding level for proposed transfers.
The TLT program runs on two-year cycles because the state's budgets are biennial budgets. A biennium is two fiscal years.
In Washington state, fiscal years run from July 1 to June 30 of the next calendar year. A fiscal year is always named for the calendar year in which the fiscal year ends. For example, the 2025 fiscal year runs from July 1, 2024 to June 30, 2025.
The biennium always begins and ends on odd-numbered calendar years (RCW 1.16.020).
As an example, the 2025-2027 biennium includes fiscal year 2026 (July 1, 2025, to June 30, 2026) and fiscal year 2027 (July 1, 2026, to June 30, 2027).
DNR accepts applications for the TLT program at or near the start of the current biennium for transfers in the next biennium. As an example, DNR will accept applications in the summer of 2023 for transfers in the 2025-27 biennium, as shown in the graphic below. (Click graphic to expand.)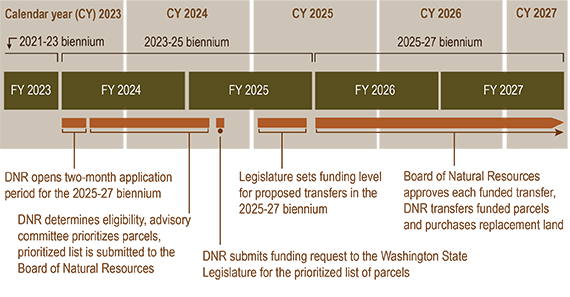 After Your Application is Submitted
DNR will not cease revenue-generating activities, if any, on the nominated parcel until the Board of Natural Resources has reviewed the prioritized list of parcels and given its consent for sending the list to the Legislature for funding.