Creosote Removal
DNR is leading efforts throughout Puget Sound to remove creosote-treated debris from our marine and estuarine waters. Projects include removing debris that washes onto area beaches, lagoons, and estuaries, as well as removing structures and pilings that line the nearshore and no longer serve a function. 
In both cases, these creosote-treated materials continue to leach chemical compounds into beach and marine sediments causing toxic conditions for organisms that live in and use these areas. The presence of unused structures also blocks sediment transport and allows for unwanted shading along the critical nearshore, displacing what could be valuable vegetated habitat.  
Since the DNR Aquatic Resources Division's Creosote Removal Program began in 2004, we have pulled 14,461 pilings, removing over 21,300 tons of creosote from Puget Sound.  This effort has included the removal of over 8.3 acres or 6 football fields worth of overwater structure.  Additionally, our program has hand-hauled and disposed of over 6,670 tons of creosote-treated debris from Puget Sound beaches.
Background
Removal of creosote-treated wood from Puget Sound has been a major focus of DNR's Restoration Program. Since 2004, DNR has partnered with entities such as Marine Resources Committees (MRC), WSU BeachWatchers, People for Puget Sound, Washington State Parks, The Nature Conservancy, and the Northwest Straits Commission, to identify and remove creosote-treated debris. The effort began in the north Sound and has since expanded Sound-wide. 
DNR and its partners have trained hundreds of citizen volunteers to identify and inventory debris using GPS technology. Data gathered has been used to determine removal locations based on the largest accumulations coupled with habitat features, access issues, and partnership possibilities.  
Funding Timeline for Creosote Removal Projects
Early funding: DNR's Restoration Program matched with MRC funds, Coastal Protection Funds, and NOAA grants, as well as countless hours of in-kind work from volunteers and local area parks staff.
2006: Additional funding became available through the Puget Sound Initiative to clean up Puget Sound by 2020. This allowed DNR to focus on the source by starting to remove derelict piers, docks, and pilings that were aging, breaking apart in storms and floating from beach to beach throughout the Sound leaving creosote residue in its wake. DNR received $2 million from the Initiative for work from July 2006-June 2007; then $4 million during the 2007-2009 Biennium.
2009 – 2011: Received funding from Department of Ecology through the Model Toxics Control Act (MTCA) to complete additional cleanup projects in the Sound.  In 2009, DNR received $3.7 million.  From 2010 to 2011, DNR received $1 million.
2012: Awarded $700,000 in grant funding from Department of Ecology to reduce polyaromatic hydrocarbons (PAH). Funding focuses on removing creosote-treated pilings from Hood Canal. 
2012: Received $1.25 million from the Jobs Now Act passed by the Washington State Legislature to remove creosote-treated piles from Puget Sound.
Creosote-removal Projects by year
2013 Projects
2012 Projects
2011 Projects
2010 Projects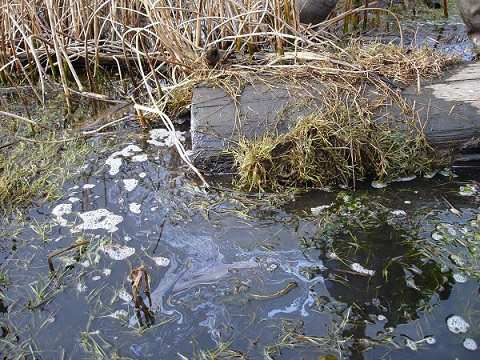 More Information