Research Program and Adaptive Management
Sustainable Management Informed by Science
In the Olympic Experimental State Forest (OESF), scientific knowledge is gathered through a program of applied research and monitoring. Information gathered through this program is intended to improve management through an 
adaptive managemen
t process. 
Research and Monitoring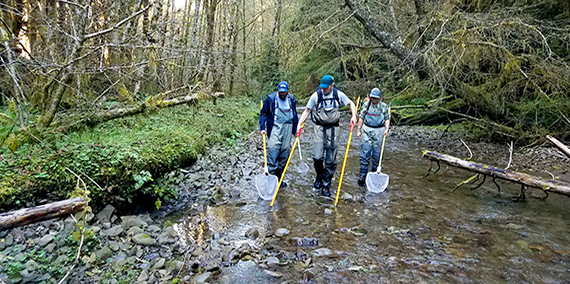 DNR field technicians electrofishing in the OESF.
In the OESF, the Washington State Department of Natural Resources (DNR) conducts research to reduce uncertainties (incomplete knowledge) about natural processes and how forest management affects wildlife and their habitat. DNR performs three kinds of monitoring in the OESF:
Implementation monitoring, to determine whether the conservation strategies in the State Trust Lands Habitat Conservation Plan are being implemented as intended;
 
Effectiveness monitoring, to determine whether the conservation strategies, as implemented, are resulting in the habitat conditions these strategies were intended to achieve; and
 
Validation monitoring, to determine whether wildlife are benefiting from the conservation strategies.
Adaptive Management
Adaptive management is the formal, step-by-step process by which DNR will use scientific information to improve land management. Adaptive management is a way to manage natural resources when knowledge is incomplete about ecosystem functions or how management affects those functions. 
Through the adaptive management process, DNR identifies incomplete knowledge (uncertainties), conducts research and monitoring to reduce these uncertainties, and provides the results of these efforts to decision-makers. Decision-makers will use this scientific knowledge, together with operational, economic, and other information, to determine if management needs to be adjusted. The figure below illustrates this process.
A flow chart illustrating the adaptive management process.
Research Partnerships
DNR has formal and informal research partnerships with universities and colleges, federal agencies, tribes, conservation organizations, non-profit and other organizations, and individuals who have relevant areas of expertise. Research topics include silviculture, logging operations, bioacoustic monitoring, stream and riparian forest management, and more. DNR has used partnership models ranging from contracts on specific projects to long-term cooperative agreements:
In 2009, DNR signed an agreement with the U.S. Forest Service's Pacific Northwest Research Station to designate the OESF as a participating forest in the Experimental Forest and Range Network. This national network includes 70 experimental forests and ranges, and is coordinated by the U.S. Forest Service to encourage data-sharing and promote collaborative research. 
 
In 2015, DNR signed a memorandum of understanding with University of Washington, Olympic National Forest, and the U.S. Forest Service's Pacific Northwest Research Station to facilitate research cooperation and information exchange.
 
In 2018, DNR signed an agreement with Olympic National Forest under the Good Neighbor Authority. The agreement enables DNR to perform mutually beneficial, cost-effective stream monitoring.
Learning Opportunities
DNR employee Miles Micheletti answers questions about his poster at the 2018 OESF Science Conference in Forks, WA.
DNR calls the OESF the "Learning Forest" because it provides a learning experience for DNR as well as educators, stakeholders, researchers, and others interested in sustainable forest management. Visit the 
Outreach and Education
 page to learn more.