AAMT Community Science Program
Please join us in our nearshore data collection efforts!  The Aquatic Assessment and Monitoring Team (AAMT) has a lot of questions to answer and needs help from volunteers to help gather the data needed to answer these questions.  Current volunteer opportunities are outlined and described in detail below.  
ACIDIFICATION NEARSHORE MONITORING NETWORK
The
A
cidification
N
earshore
M
onitoring
N
etwork (ANeMoNe) was established in 2015 to study climate change and ocean acidification in nearshore environments.  ANeMoNe is designed to explore regional differences in nearshore waters and develop management options that can maintain resilient ecosystems and reduce the negative impacts of changing ocean conditions on state-owned aquatic lands.  At ten sites across Washington State, ANeMoNe uses sensors to measure environmental data year-round, such as temperature, pH, dissolved oxygen, chlorophyll, and salinity - both inside and outside of eelgrass.  Biological data, including information about eelgrass, native oysters, and shellfish, are collected in the spring and summer to explore the effects of warming and acidification on critical natural resources.  Because the network collects this data synchronously across all tens ites, it is able to detect regional differences and support replicated experiments that pursue pressing questions and can be used as a scientific resource to Pacific Northwest researchers.  Volunteers are essential in maintaining this resource.  For more detailed information on ANeMoNe, click here to read the
2019 State of ANeMoNe Report
.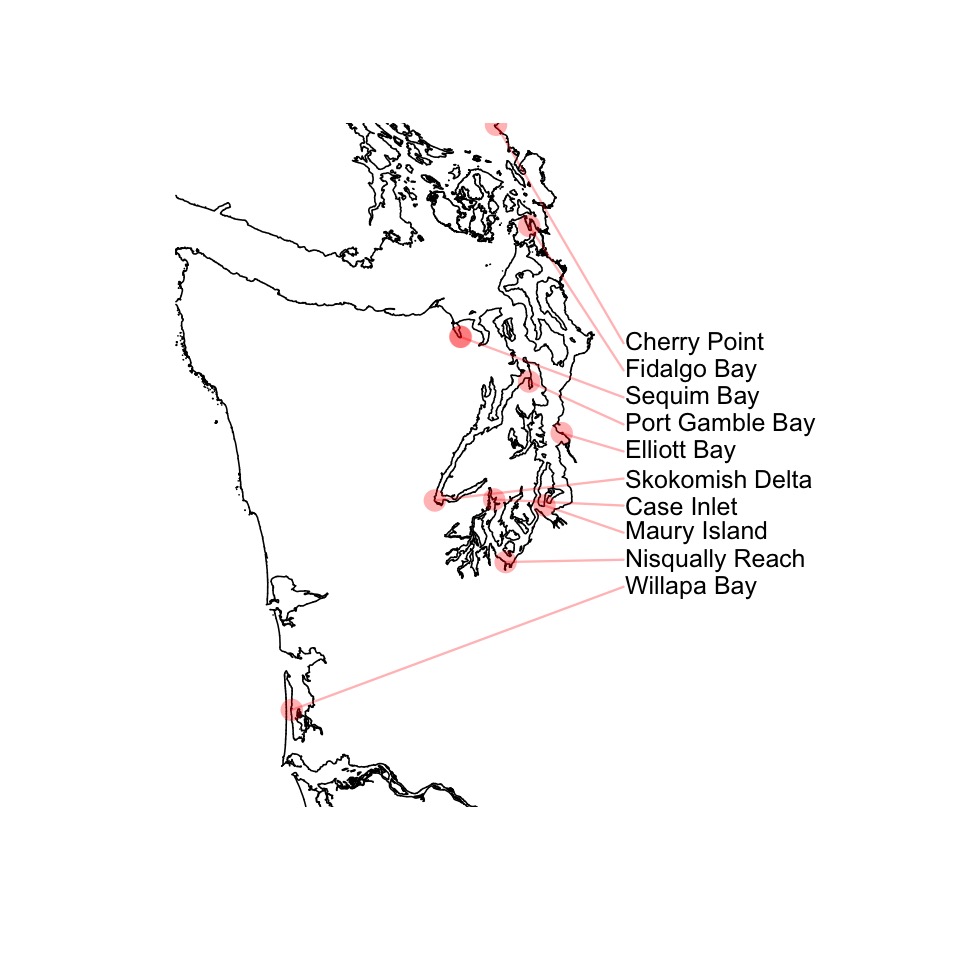 The above map shows ANeMoNe locations for volunteer opportunities with AAMT.
ANeMoNe Site Guardians
The ten ANeMoNe sites that make up the network are spread throughout the Salish Sea and along the Pacific coast.  DNR staff can't travel to ANeMoNe sites as frequenty as needed to maintain sensors and collect biological data.  This is where Site Guardians, volunteers who collect biological data and maintain sensors, come in.  Through frequent visits and early removal of sensor fouling (the growth of algae, barnacles, and other marine life on sensors). Site Guardians have vastly improved the quality of environmental data collected and therefore our understanding of nearshore habitats.  Site Guardians also bring their valuable understanding of local conditions, and serve as ambassadors to their communities on issues of climate change and ocean acidification.
If you are interested in helping at any of the listed sites, please contact Cinde Donoghue  at 360-902-1718..
  Site Guardians at Cherry Point
Seasonally Focused Sampling
The amount of volunteer work available varies with the season.  During the spring  and summer months, biological fouling (the growth of algae, barnacles, and other marine life on sensors) can rapidly cover the sensor probes.  During this growing season, ANeMoNe sensors are cleaned twice a month.  The spring and summer growing seasons are also when we measure eelgrass and native oysters and monitor shellfish reproduction.  It's a busy time of year, but with great low tides and sunny weather, it's also a great time to be outside!
In the slow-growing months of fall and winter, there is less sensor maintenance that needs to be done.  Volunteer opportunities in fall and winter slow down and center around cleaning sensors monthly and swapping them every three months.
This seasonal sampling means that the AAMT provides two volunteer opportunities a month during the spring and summer and roughly one opportunity per month in the fall and winter.  The following includes descriptions of the volunteer opportunities as well as the amount and frequency at which these opportunities take place throughout the year.  Please contact AAMT if you have any further questions.
ANeMoNe Sensor Swaps and Cleaning
Our sensors measure the progress of climate change and ocean acidification, and uncover the diversity of conditions in our region.  Every three months, AAMT swaps the sensors that have been in the field collecting data with calibrated, charged sensors.  In spring through fall, these sensors also need to be cleaned twice to counteract fouling. 
Shellfish Reproduction Tiles
Shellfish larvae settlement tiles are deployed at all ANeMoNe sites in late spring and are swapped every two weeks throughout the summer.  AAMT identifies and counts juvenile shellfish to see whether climate change and ocean acidification are changing the tiling and success of shellfish reproduction, and to identify possible refuge sites.  We need volunteers to help retrieve and replace the deployed tiles every two weeks during the summer.
Eelgrass Density and Morphology
We measure eelgrass to explore how underwater meadows affect local water chemistry, and to see how eelgrass responds to climate change.  AAMT needs volunteers during the active growing season, spring through summer, to complete these measurements.  
Olympia Oyster Growth
In the spring of 2019, AAMT set out Olympia oysters across all ten ANeMoNe sites to study restoration suitability at different sites, and the potential for eelgrass to improve oyster survival and growth.  Oyster measurements are taken twice a month from spring through summer to track their growth.
Development of New Opportunities
The effects of ocean acidification and warming have not been studied much in shallow, nearshore waters, which means there are many questions we don't yet have answers to.  ANeMoNe is set up in a way that allows for the introduction and study of these new questions.  New experiments are on the horizon involving geoducks, harmful algal blooms, microbial warfare, and cockle growth.  Come be a part of climate change and ocean acidification research.  We look forward to talking with you and working with you in your local nearshore waters!