Nisqually Reach Aquatic Reserve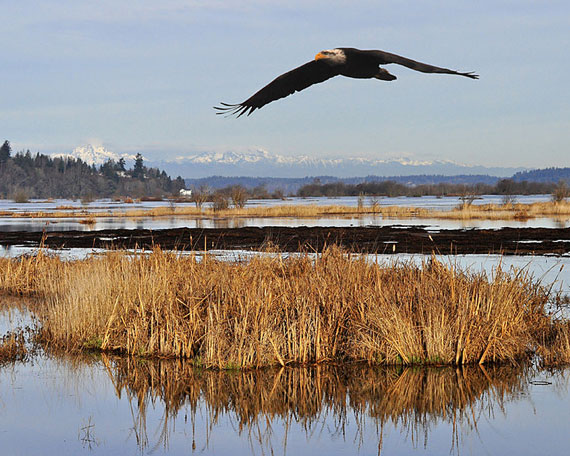 The Nisqually Reach Aquatic Reserve extends from the Nisqually River Delta across Nisqually Reach. It includes all state-owned aquatic lands in these areas, plus state-owned bedlands and beaches surrounding Anderson, Ketron and Eagle Islands to the shores of McNeil Island.
The Nisqually Reach region has been identified as an area important for fish, aquatic mammals, and benthic habitats and an area of unique geologic processes.
Implementation Committee information
The Nisqully Reach Aquatic Reserve Implementation Committee assists DNR Aquatic Reserves Program staff in developing recommendations for the management of the reserve.
Monitoring
DNR is working with the Nisqually Tribe's Salmon Recovery Program and other partners to assess the fish ecology in the reserve and surrounding area. The results of the assessment will help determine where to focus future restoration efforts. In addition, the data will provide a unique regional analysis of fish ecology in the reserve.
The Tribe is the assessment project lead and the partners are:
Nisqually National Wildlife Refuge
Nisqually River Foundation
U.S. Geological Survey
This partnership has helped to expand current assessment and research efforts in the Nisqually River and Nisqually Reach to include sampling stations within the reserve ranging from Tolmie State Park to McNeil Island.
Monitoring near the Nisqually Reach Reserve
The Nisqually River delta became the site of the largest estuary restoration project in Puget Sound when tidal inundation was returned to 750 acres of the delta by dike removal in 2009. The US Geologic Survey and the Nisqually Indian Tribe are conducting multidisciplinary monitoring of the ecosystem's response to these changes.
Citizen Science
Get Involved
Want to help with the fish ecology assessment monitoring project? Contact the Nisqually Reach Nature Center at 360-459-0387 for more information about how to volunteer.
Other Reserves