Aggregate Resources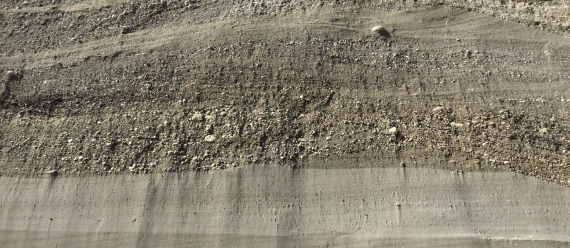 Sand and gravel deposits and bedrock may be mined or quarried to produce raw materials known as aggregate. Aggregate is necessary to manufacture concrete, asphalt, and other products. These products are the building blocks for our homes, businesses, roads, and bridges. Certain types of rock may be used as decorative stone.
The United States produces about 17.6 billion dollars' worth of aggregate annually. Washington contributes about 363 million dollars (2%; see references below). Aggregate is the most valuable mineral commodity in the state. Mining of this valuable resource need not cause undue harm to the environment. With proper planning and reclamation, former aggregate mines can become habitat for wildlife, city parks, and other uses. Thus, locating and protecting sources of aggregate is critical for economic growth, protecting the environment, and maintaining the high quality of life enjoyed by residents of this state.
Common Mining Processes
Sand and gravel mining commonly occurs in large open pits. Typically, sand and gravel are relatively dry and removed with bulldozers, front-end loaders, and other conventional construction equipment. However, mining may occur in areas with a high water table. In this case, sands and gravels are removed by a mining method known as dredging. Dredge mining requires specialized equipment such as draglines or clamshell excavators.
Bucket dredge in gravel pit operated by Miles Sand & Gravel, Inc., near Roy, WA. Photo by Carrie Gillum (DNR).
Crushed rock mining differs from sand and gravel in that it must be drilled and blasted to be removed. Blasting requires loading a small amount of explosives into regularly drilled holes in the rock face. When detonated, the explosives fracture the rock in mere seconds. This breaks the rock into smaller pieces suitable for crushing.
Crushed rock piles in Skagit County, WA. Photo by Eli Newby (DNR)
After extraction, the sand and gravel or crushed rock is sorted into piles of various sizes. It may vary from boulder to sand sized. The size of the rock needed may depend on construction project requirements and many sizes of aggregate may be required.
Once purchased, aggregate is transported to the site by trucks, railcars, or barges. Of these transportation methods, 93%4 of all aggregate is shipped by trucks nationally. These vehicles vary in size from pickups to 28-ton haulers. Because several gravel pits around Puget Sound transport aggregate by barge, Washington State would differ slightly from the national values shown.
Reclamation
Aggregate resources are limited and eventually the supply will run out in a mine. What happens to the land and area of the mine after that? This is an important question that is addressed prior to the mine ever opening. Known as 'subsequent use', the mine operators work with the local governments to identify what the mine site will become once it is closed. The DNR works with the mine operator to make sure that the reclamation plan meets the local governments' standards. Commonly mine sites are converted into forested areas, providing habitat for birds and other animals. Near urban areas, mines may be changed into city parks with grassy areas and trails for people to enjoy. Some mine sites are developed, providing additional land for urban growth.
Reclamation does not have to wait until the end of a project (RCW 78.44). Sometimes reclamation starts while a mine is in operation. Known as 'segmental reclamation', DNR encourages mine owners to reclaim parts of the mine as they are finished working them. This helps to control erosion, the spread of noxious weeds, and prevent blowing dust. Also, it spreads the cost of reclamation for the mine owner out over time.
Rules, Regulations and Forms Page
Fun facts!
Whether we realize it or not, on average, each Washington resident uses about 13.5 tons of aggregate per year1. Demand can be linked to projected population growth.
The cost of transport for aggregate doubles every 25 miles traveled by truck from the mine source1. Do you know where your closest aggregate source is?
In 2010, Washington State had 955 permitted mines3. 
The Chambers Bay Golf Course in Tacoma, host of the 2015 U.S. Open, was constructed on a reclaimed gravel mine.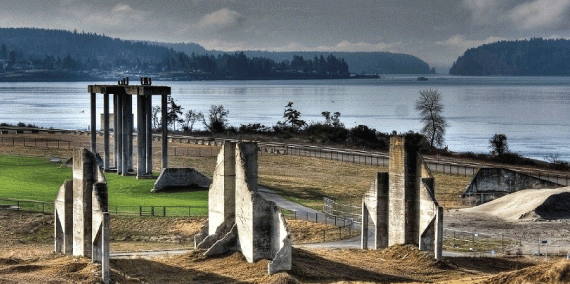 Chambers Bay Golf Course, home to the 2015 U.S. Open, is a reclaimed gravel mine in University Place. The "Ruins" shown above were once used for keeping different sizes of aggregate separate. Photo by Michael D. Martin (Flickr Creative Commons).
Resource Inventory Maps
One of the long-term plans of the Survey is to map the aggregate resources of the state. So far, we have covered three counties and six 1:100,000-scale quadrangles. These maps are used by county planners so that they can consider sources of aggregate in their long-term land-use decision-making.
Click on the map below to download aggregate resource maps.
References
Pacific Lutheran University School of Business, 2003, The aggregates industry in Washington - Economic impact and importance: Pacific Lutheran University School of Business, 26 p.
Bolen, W. P., 2014, 2012 Minerals Yearbook - sand and gravel, construction: U.S. Geological Survey, 18 p.
Washington Division of Geology and Earth Resources, 2010, Active surface mine permit sites - GIS data.
Langer, William H.; Drew, Lawrence J.; Sachs, Janet S., 2004, Aggregate and the environment: American Geological Institute, 64 p.
Willett, J. C., 2014, 2012 Minerals Yearbook - stone, crushed: U.S. Geologic Survey, 26 p.