Aggregate Resources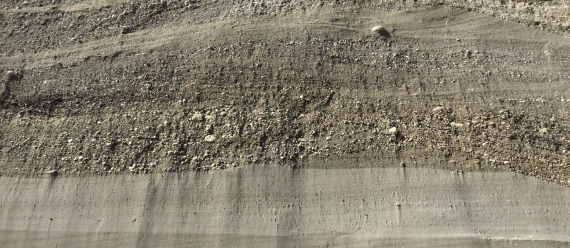 Sand, gravel, and bedrock may be mined or quarried to produce raw materials known as 'construction' aggregate. Construction aggregate is used for road base and stabilization as well in the manufacture of concrete, asphalt, and other products. These products are the building blocks for our homes, businesses, roads, and bridges.
Examples of the construction aggregate materials included in the scope of the Washington Geological Survey's Aggregate Resource Maps.
In 2021, the United States produced about 30 billion dollars' worth of aggregate (Mineral Industry Surveys). Washington contributes about 670 million dollars of that, which is approximately 2 percent of the national production (Mineral Industry Surveys). Aggregate is the most valuable mineral commodity in our state. To learn more about how it is commonly mined, check out the "Common Aggregate Mining Practices" section below.
Identifying and protecting sources of aggregate is critical for economic growth, resource management, and maintaining the high quality of life enjoyed by Washington residents. WGS plans to map the aggregate resources of the state on a county-by-county basis. County and city planners can use Aggregate Resource Maps to assist their decision making in long-term land-use planning. See the interactive map in the Aggregate Resource Maps section below to view the areas that have already been mapped. To learn more about this mapping effort, check out our 'Aggregate Resource Mapping in Washington information sheet'.
With proper planning and reclamation, former aggregate mining land can become habitat for wildlife, converted into city parks, or adapted for other uses. WGS's Surface Mine Reclamation Program monitors surface mines, issues reclamation permits, monitors site reclamation compliance, and provides consistent regulation of mining sites statewide. To learn more about WGS's Surface Mine Reclamation Program, visit their webpage.
Aggregate Resources and the Growth Management Act
Planning for aggregate needs and use is required under the Revised Code of Washington (RCW) 36.70A.131 and the Washington Administrative Code (WAC) 365-190-070. Counties and cities must identify and designate Mineral Resource Lands of long-term commercial significance. Aggregate resources are included as part of Mineral Resource Lands.
The Growth Management Act (GMA) states that counties and cities should use information provided by the Department of Natural Resources (DNR), the U.S. Geological Survey, and any other relevant information provided by property owners for their land-use decisions related to mineral resources and Mineral Resource Lands (MRLs). Aggregate resources, which are a part of mineral resources, are being mapped by the Washington Geological Survey (WGS). Cities and counties may choose to use all or part of the information provided by WGS when they determine which mineral resources to designate as MRLs. MRLs are a land-use designation and each local jurisdiction determines their MRLs. In general, MRLs are where aggregate resources could be mined or quarried with the proper permits. Rarely, some jurisdictions will allow permitted mining activities in lands not designated as MRLs.
To learn more about how WGS is involved with GMA, visit the Geologic Planning webpage.
Aggregate Resource Maps
Aggregate resources are commonly thought of as ubiquitous, meaning that they can be found everywhere. However, aggregate resources are deposited in specific geologic areas and their quality varies significantly. In general, glacial deposits, river deposits, and some types of intrusive igneous rocks have been most commonly mined for aggregate resources in Washington. WGS's Aggregate Resource Maps highlight areas that could have suitable aggregate resources according to our quality and quantity thresholds. The maps also communicate areas where unsuitable aggregate resources are likely to be found. Unsuitable areas could include resources that are of poor quality, are either not large enough or thick enough to be mined, or are located within federally protected lands.

Aggregate Resource Maps are made using existing geologic maps, subsurface data, materials-testing data, and publicly available mining data to classify potential sources of aggregate. These classifications vary based on size, quality, and uncertainty of the resource. We show sand and gravel resources separately from bedrock resources because there are differences in their source geology and in how they are mined.
In general, aggregate resources are classified as either Demonstrated, Inferred, or Speculative resources. Areas where aggregate resources are unlikely found are classified as Not a Resource. Maps published prior to 2022 use different resource classification language. To understand more about the resource classifications in the map area you are interested in, refer to the resource classification descriptions outlined in the publication's pamphlet.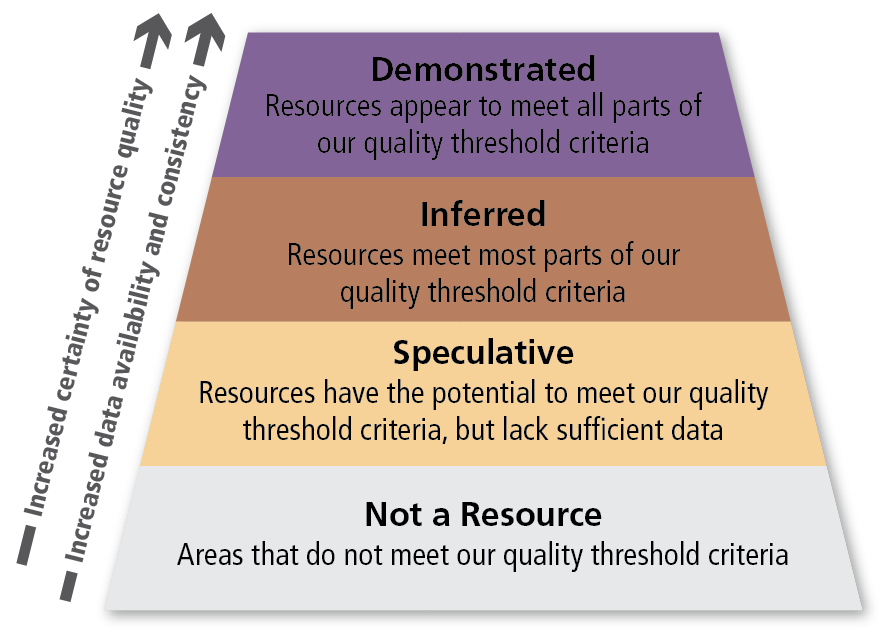 Click on the map below to download completed aggregate resources maps, and view our in progress and scheduled aggregate resource mapping areas.
How can Planners use the aggregate resource maps?
City and county planners can use WGS's Aggregate Resource Maps and corresponding data to make more informed decisions about mineral resources and designating Mineral Resource Lands (MRL) in their jurisdictions. While Aggregate Resource Maps show where resources may be economic, they do not factor in current land use or other considerations. Overlaying the aggregate resource data with the county and city zoning, transportation, environmental, and other data will help each jurisdiction make county and city-specific decisions.
According to RCW 36.70A.131, counties and cities shall take into consideration new data available from the Department of Natural Resources as part of the review required by RCW 36.70A.130. WGS will create new Aggregate Resource Maps and reach out to relevant counties and cities during the pre-mapping and draft map processes. Once the map and data are published, these jurisdictions will be able to take these products into consideration for land-use and other decision-making processes. To learn more about land-use, visit the Department of Commerce's Growth Management Services webpage.
Common Aggregate Mining Practices
Sand and gravel mining commonly occurs in large open pits. Typically, sand and gravel are relatively dry and removed with bulldozers, front-end loaders, and other conventional construction equipment. However, mining may occur in areas with a high water table. In this case, sands and gravels are removed by a mining method known as dredging. Dredge mining requires specialized equipment such as draglines or clamshell excavators.
Bucket dredge in gravel pit operated by Miles Sand & Gravel, Inc., near Roy, WA. Photo by Carrie Gillum (DNR).
Crushed rock mining differs from sand and gravel in that it must be drilled and blasted to be removed. Blasting requires loading a small amount of explosives into regularly drilled holes in the rock face. When detonated, the explosives fracture the rock in mere seconds. This breaks the rock into smaller pieces suitable for crushing.
Crushed rock piles in Skagit County, WA. Photo by Eli Newby (DNR)
After extraction, the sand and gravel or crushed rock is sorted into piles of various sizes. It may vary from boulder to sand sized. The size of the rock needed may depend on construction project requirements and many sizes of aggregate may be required.
Once purchased, aggregate is transported to the construction site by trucks, railcars, or barges. Of these transportation methods, 93% of all aggregate is shipped by trucks nationally. These vehicles vary in size from pickups to 28-ton haulers. Because several gravel pits around Puget Sound transport aggregate by barge, Washington State would differ slightly from the national values shown.
Fun facts!
In November 2021, the Federal Infrastructure Investment and Jobs Act was signed into law. The legislation will invest $110 billion nation wide in additional funding to repair roads and bridges. These projects will increase the need for construction aggregate.
From 2020 to 2021, aggregate use in the U.S. increased by 6 percent (Mineral Industry Surveys)
Washington is the 7th highest producer of sand and gravel resources in the country (Mineral Industry Surveys)
Washington State has ~875 active permitted aggregate mines (WGS Active Surface Mine Permit GIS data)
A 25-mile haul will double the cost of most aggregate related products (Pacific Lutheran University School of Business, 2003)