Complete: Morning Star trails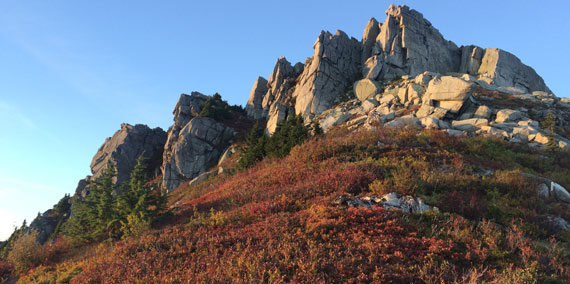 In collaboration with local governments, recreationists and other interested parties, DNR created a trails plan that will guide development and management low-impact recreational opportunities and facilities in the Morning Star conservation area for the next 10 to 15 years.
DNR staff evaluated existing trails with respect to traditional and cultural use, renovation, potential expansion, and desired hiking, backcountry camping and scenic vistas and viewpoints. Plan priorities will help identify future projects. The planning process will emphasize restoring environmentally sensitive areas and redeveloping existing popular trails.
Survey results
Thanks to nearly 150 people who responded to our Morning Star trails planning survey from Dec 2016 - Jan. 2017. For a summary of what we heard, click
here
. View submitted survey comments 
here
. 
Morning Star Conservation Area
The 37,842-acre mountainous conservation area, DNR's largest, protects outstanding examples of native plant communities and other ecological features, such as subalpine meadows, wetlands, and lakes. To learn more about the Morning Star Natural Resources Conservation Area, click
here
.
About Gothic Basin
Gothic Basin is a high-use, unmanaged area within the Morning Star NRCA. See what DNR is doing for
Gothic Basin
. 
The Morning Star Trails Planning Committee
The Morning Star Trails Planning Committee makes recommendations to the Washington State Departments of Natural Resources (DNR) to guide the development of the future Morning Star trails plan. The committee represents the interests of local communities, partners, and stakeholder groups. It reflects the priorities of the broad cross-section of Washingtonians who cherish recreation in the Morning Star Natural Resources Conservation Area. 
2017 MEETINGS
---
October 17, 2017
Meeting Materials
August 15, 2017
June 20, 2017
May 16, 2017
April 18, 2017
Meeting Materials
March 21, 2017
2016 MEETINGS
---
Dec. 15, 2016