Success Stories
Three Decades of Transfers
Since its establishment in 1989, the Trust Land Transfer (TLT) program has been used to transfer over 100,000 acres of state trust lands to receiving agencies in Washington State. DNR also has purchased over 50,000 acres of productive state trust lands that will provide long-term, sustainable revenue for trust beneficiaries.
Creating special places
The TLT program has been instrumental in creating some of the most cherished and iconic parks and natural areas in the state. For example, over 700 of the 1,380 acres that comprise Wallace Falls State Park near Gold Bar, Washington came from TLT. Wallace Falls offers 12 miles of trails, two lakes, and a 259-foot waterfall tumbling in tiers down a heavily forested canyon. Being within an easy drive of Seattle, Wallace Falls is one of the most popular state parks in Washington.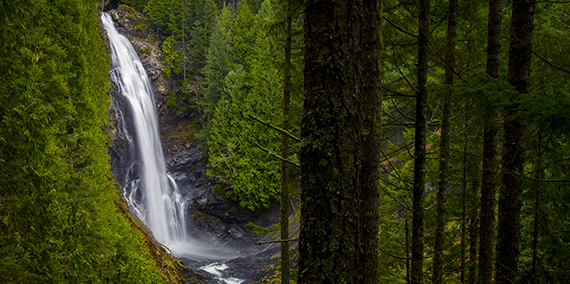 In another example, the 5,424-acre Moran State Park in Orcas Island has five lakes, over 30 miles of trails, campgrounds, and a stone tower on Mount Constitution with a sweeping view of Puget Sound. This park includes more than 500 acres transferred through the TLT program.
Campground at Moran State Park. Photo courtesy Washington State Parks and Recreation Commission (State Parks)
.
Other popular parks in Washington which have received TLT acres include Lake Sammamish State Park near Bellevue; South Whidbey Island State Park and Fort Ebey State Park on Whidbey Island; Squak Mountain State Park near Issaquah; and Larabee State Park south of Bellingham.
In addition, 43 DNR-managed natural areas owe their existence, in full or in part, to the TLT program. One example is
Morning Star Natural Resources Conservation Area
(NRCA) off the Mountain Loop Highway, which preserves outstanding alpine scenery and provides miles of hiking trails for the growing populations of Snohomish and King counties. Another example is
Mount Si NRCA
near North Bend, which protects four mountain peaks, several stream systems, and three alpine lakes, providing room to roam for mountain goats and many other wildlife species.
DNR-managed Mount Si NRCA
DNR is currently developing a tabular record of the transfers that have been completed since this program was established in 1989. It will be posted on this page when completed.