Lake Kapowsin
Stumps sticking out of the top of Lake Kapowsin evidence an underwater forest buried when the Electron Mudflow dammed a creek and created the lake some 500 years ago. DNR Photo
On Sept. 22, 2016, Commissioner Peter Goldmark signed an
order
establishing Lake Kapowsin in eastern Pierce County as a state Aquatic Reserve.
Lake Kapowsin is the Washington State Department of Natural Resources' eighth aquatic reserve, but the first freshwater aquatic reserve. The designation protects this unique gem of a lake for those who currently enjoy its hunting, fishing and boating opportunities. The aquatic reserve designation also opens addition opportunities to gather information about the ecology of our freshwater environments.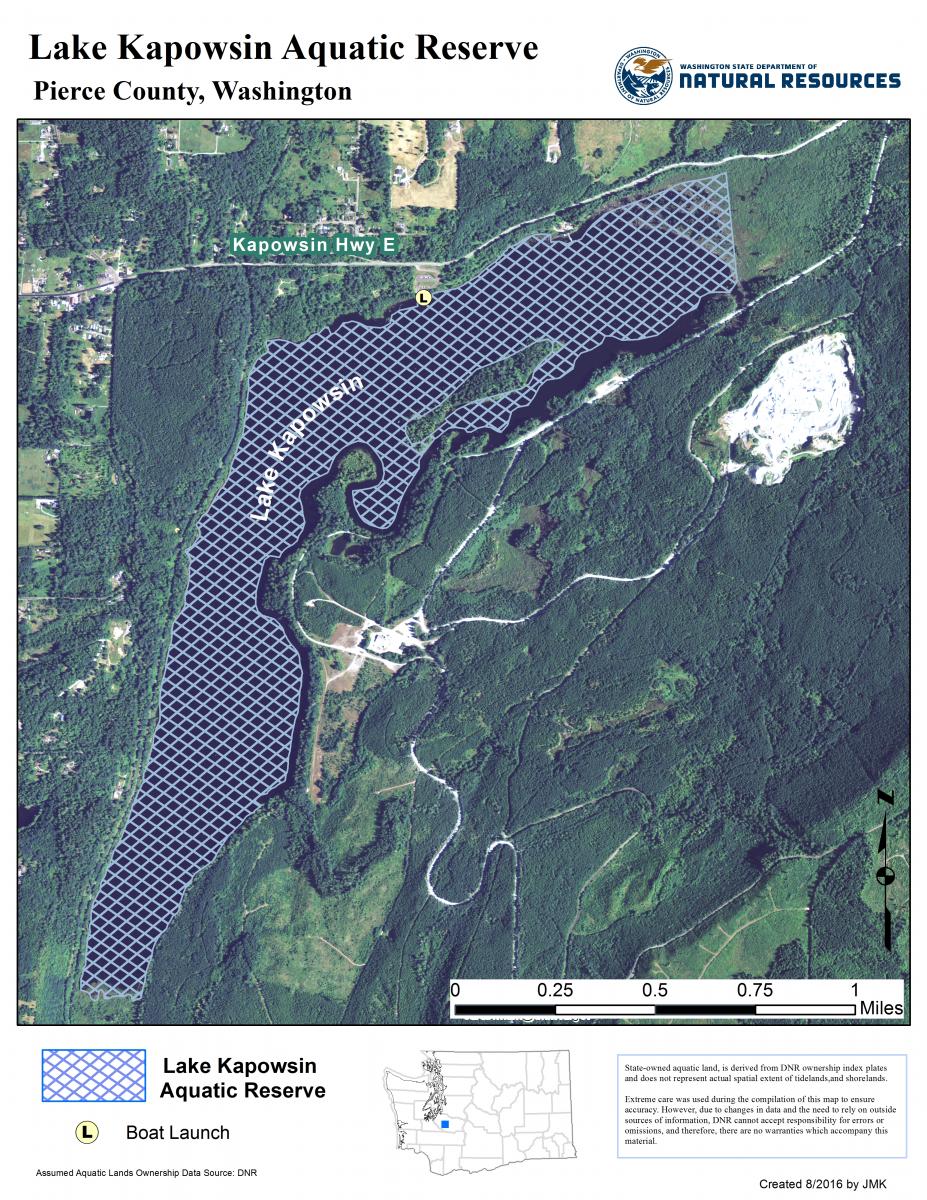 Geologic history captured in submerged forest
The 512-acre lake was created when the Electron Mudflow rushed down the Puyallup Valley from Mt. Rainier and dammed a tributary creek, flooding the valley floor and drowning the native forest.  Geologists place this mudflow at approximately 500 years ago and many of the stumps from this ancient forest remain in the lake, now a legacy of the geologic event.
Underwater forest provides vital habitat
Lake Kapowsin's underwater wood and stumps provide valuable habitat for fish, amphibians, and the invertebrates that supply their diet. In addition, the lake's extensive wetlands provide habitat for many small mammals and amphibians.
The lake supports a range of native and stocked sport fish, including coho, steelhead, and cutthroat salmon; rainbow trout, largemouth bass, yellow perch, rock bass, black crappie, bluegill, pumpkin seed sunfish, walleye, and bullhead catfish.
Goals for the Lake Kapowsin Aquatic Reserve 
Conserve and enhance these native habitats, and protect and restore the functions and natural processes of this freshwater lowland lake and associated wetlands. 
Preserve existing low impact public use and enjoyment of the lake, such as fishing.
Promote stewardship of riparian and aquatic habitats and species by providing education and outreach opportunities, and coordinating with resource managers, neighboring landowners, Tribal agencies, angler groups and non-governmental organizations.
Protect opportunities for scientific research such as geologic investigations of the lake's origins and tree ring evidence