Teanaway Community Forest
Attention:

 Alerts and Closures

 

Recreation alert: 

Dispersed campfires are not allowed beginning 6/16/2023. Campfires are only allowed in designated campgrounds with approved fire pits. 

View list of campsites

.

 

Recreation alert: 

No campfires at 29 Pines Campground beginning 6/16/2023.

 

Recreation alert: 

No campfires at Teanaway Camping Area and Indian Camp beginning 7/14/2023.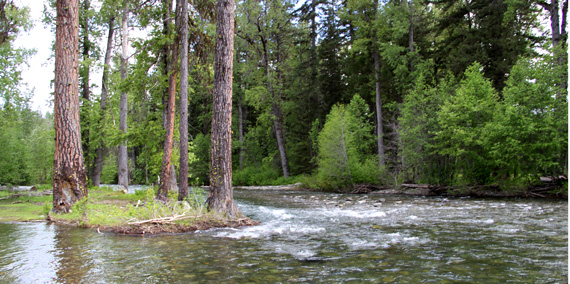 The Teanaway Community Forest demonstrates how conservation, sustainable forestry, and community partnership goals can be achieved. This beautiful 50,241-acre landscape lies at the headwaters of the Yakima Basin watershed. The state purchased the land in 2013 with funding provided by the Legislature and established Washington's first state-owned 
community forest
. The forest contains nearly 400 miles of free-flowing streams and prime habitat for fish and wildlife. It has a history of grazing and timber harvests and offers unique recreation opportunities.
The law establishing the forest set up clear goals for the landscape:
To protect and enhance the water supply and protect the watershed,

To maintain working lands for forestry and grazing and grazing while protecting key watershed functions and aquatic habitats,

To maintain and, where possible, expand recreation opportunities consistent with watershed protection for activities such as hiking, fishing, hunting, horseback riding, camping, birding, and snowmobiling,

To conserve and restore vital habitat for fish, including steelhead, spring Chinook, and bull trout, and wildlife, including deer, elk, large predators and spotted owls, and

To support strong community partnerships, the Yakama Nation, residents, business owners, local governments, conservation groups, and others provide advice about ongoing land management.
The Department of Natural Resources (DNR) is collaboratively managing the Teanaway Community Forest with the Washington Department of Fish and Wildlife (WDFW), with significant public input from a community-based advisory committee. The collaborative has recently completed a
Teanaway Community Forest Management Plan
.
Recreation
Enjoy Teanaway Community Forest, a beautiful recreation destination situated at the Yakima Basin watershed headwaters. Since Native Americans first inhabited the area 11,500 years ago to the present, people have thought this 50,241-acre forest to be special.  Whether you're planning to take your horses out along the West Fork Teanaway River or explore the incredible geologic formation of Cheese Rock, Teanaway Community Forest offers striking views, recreation opportunities, and a chance to see conservation and sustainable forestry in action.
Kiosk 
maps
 within the forest help to guide visitors to trails campgrounds found within the scenic Teanaway. Hikers, horseback riders, and mountain bikers may use the existing, unmaintained trails and gated roads at their own risk until sanctioned trails are established through the 
Teanaway Community Forest implementation Recreation Plan
 (page 75). Nearby national forests also have several multi-use trailheads within the community forest. Visitors should follow the rules set by the U.S. Forest Service when using these trails.
Teanaway Community Forest Tips
Please respect private property inholdings by using our 

map

 to avoid trespassing. 

To protect the landscape, visitors may not construct new trails or change existing trails. Motorcycle, ORV, and ATV riders are reminded that they are not allowed on gated roads closed to motor vehicles and are asked to honor posted off-limit areas; it is illegal to drive around berms or other barriers intended to inhibit motorized use.

Cutting firewood is not allowed.

Stays are limited to seven days in a 30-day period. 

Enjoy equestrian camping in Indian Camp and Teanaway Campground only.

No dispersed camping, or camping outside of a designated campground, allowed.

Please honor county parking signs when accessing the groomed trail system. Parking for 47 miles of groomed trail is available at the Teanaway/ 29 Pines Staging Area located on the North Fork Teanaway Road. For more information, click 

here

. 
Recreation Plan Implementation 
The recreation plan was developed to support the forest's five management goals while providing opportunities for hiking, camping, mountain biking, horseback riding, boating, scenic driving, snowmobiling, and motorcycling, as well as fishing, hunting, and nature activities. DNR, WDFW, and the advisory committee relied heavily upon public input and ideas while developing the recreation plan and encouraging people to participate in the recreation planning process throughout the implementation phase.
Other tips for your visit
Don't forget your Discover Pass! Learn more about it at DiscoverPass.wa.gov
Campsites are available first-come, first-served at no additional cost with the purchase of a Discover Pass.
Enjoy a campfire in approved fire pits in designated campgrounds only. Always check for burn restrictions before lighting a campfire. 
Don't Move Firewood. Help protect Pacific Northwest forests by preventing the spread of invasive species. Firewood can carry insects and diseases that can threaten the health of our western forests. Please purchase firewood near your campsite. Find more information here.
Leave No Trace
For your safety and the safety of our wildlife, please follow the seven principles of Leave No Trace. You can brush up on them 
here
. Food and garbage left behind or improperly disposed of can attract wildlife and create potentially dangerous situations for visitors. Please pack out all food items and garbage. 
NEVER feed wildlife
.
29 Pines Campground 
Located along the north fork of the Teanaway River, the camp offers 59 campsites with fire rings and toilets. 
View the updated Washington State Parks Sno-Park map
 of Teanaway Community Forest groomed snowmobile trails, which have some temporary closures due to wildfire hazards. For more information about the risks associated with burned areas, 
click here
. 
Directions: 22 miles north of Cle Elum at the end of the N. Fork Teanaway Road just past the fish hatchery on your left at the 29 Pines summer campground location. 
Get directions
 using the following address: 20831 North Fork Teanaway Road, Cle Elum, WA 98922. 
Teanaway Camping Area
Located along the west fork of the Teanaway River, the camp offers 55 campsites with fire rings and two ADA-accessible toilets.
Directions:  Start at I-90 exit 85 (Cle Elum). Go east on SR-970 for 6.9 miles. Turn left on Teanaway Road. Go 7.3 miles. Turn left on West Fork Teanaway Road for .6 miles and turn left into Teanaway Campground. No fee. Access is provided on a first-come, first-served basis (no reservations).
Get directions
 using the following address: 1160 West Fork Teanaway Road, Cle Elum, WA 98922. 
Indian Camp
Located along the middle fork of the Teanaway River, the camp offers eleven campsites with fire rings, two group campsites with fire rings, and a toilet. 
 
Directions
: Start at I-90 exit 85 (Cle Elum). Go east on SR-970 for 6.9 miles. Turn left on Teanaway Road. Go 7.3 miles. Turn left on West Fork Teanaway Road for .6 miles. Turn right on Middle Fork Teanaway Road. Go 3.9 miles. Turn left into Indian Camp campground.
Get directions
 using the following address: 4394 Middle Fork Teanaway Road, Cle Elum, WA 98922.