Internships
Internship Program Opportunities at DNR
Think DNR is only about fires and forestry?  Think again. Seismology, Silviculture, Entomology, Aquaculture, Hydrology.  What do these diverse disciplines have in common? These are just a few of the professionals that DNR hires. In fact, we offer some of the most diverse career opportunities in state government.  While the majority of our jobs are professional positions with a natural science focus, we also recruit candidates in many other fields – fields like, engineering, natural resource policy, financial management, business, and communications, just to name a few.
DNR is a multi-faceted agency where its employees are passionate about their work whether it is managing our states trust lands, conserving our natural heritage, or protecting public resources like our forests and clean water.
If you are interested in learning firsthand how a fast-paced agency like DNR conducts business on behalf of the citizens of Washington State, an internship with us is a great way to get started.
Each year we have a variety of internship opportunities available statewide. Our internship program is designed to offer professional development opportunities to students pursuing an associate, bachelors, or graduate degree in relevant fields. The agency provides both paid and unpaid internship opportunities. Most of our internship work takes place between May and September, however, we do have some year round opportunities.
Our internship program is designed to:
Provide high-quality learning experience for students,
Attract the brightest and best students to DNR,
Expand our potential pool of future employees,
Improve workforce diversity objectives in support of our agency goals,
Promote excellent working relationships with targeted colleges, universities, and the community at large.
What's in it for DNR?
Obviously, internships also benefit us.  Internships can provide a mechanism to identify, recruit, and hire diverse, competent college students into the agency.  They can also be an effective means of promoting our agency and our programs within the community.
All of our internships will be posted online on the 
DNR Jobs
 page and can be found by searching on the category "Internships".  You can also find DNR's and other Washington State agency internship opportunities by searching at 
www.careers.wa.gov
Internship Networking Day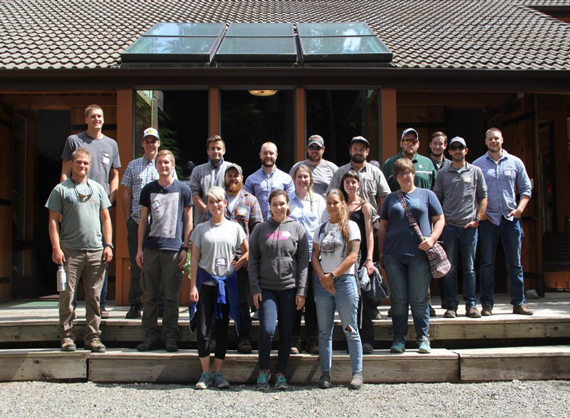 Along with offering on the job experience, DNR internships are also designed to provide networking opportunities. Interns from across the state gathered in North Bend for DNR's inaugural Internship Networking Day where 19 interns were joined by DNR staff from various departments. This event provided opportunities for interns to interact across regions, network with peers and supervisors, and to listen to valuable career advice from speakers. Activities included a question and answer panel with DNR employees and the opportunity to hear from former Chief of Staff Kyle Blum.