Natural Resources Police
Our Mission
Our purpose is to ensure your safety and to protect state assets and the environment. We want to make sure you have a safe and enjoyable experience when you are on state trust lands.
Emergency Phone Numbers
Emergency: 911
Sinking Boat or Oil Spill: 1-800-258-5990
Forest Fire: 1-800-562-6010
After Hours & Weekends: 1-800-562-6010
What We Do
Patrol State Trust Lands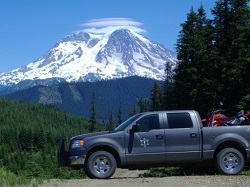 DNR Police Officers are stationed throughout Washington state to protect the public, employees, and state lands, resources and other assets. Our officers patrol more than 5 million acres of DNR-managed lands--from vast forested landscapes to remote sites accessible only by off-road vehicles--in some cases, only by boat! By providing a uniformed presence in the field, our patrols help deter crime and other undesirable behavior, ensure compliance with state laws and department rules, and assist the public. Officers typically patrol in 4x4 pickups marked as police vehicles but they also have the flexibility to use off-road motorcycles, quad runners, snowmobiles, and boats. Officers usually work alone, often in remote areas where immediate assistance is not available.
Investigate
DNR Police Officers respond to and investigate vehicle collisions and infractions--involving both highway vehicles and off-road vehicles--that occur on DNR-managed lands. They also investigate other types of incidents and crimes, such as theft, trespass, malicious mischief, assault, reckless endangerment, fish and wildlife violations, and other violations. All DNR Officers are trained and experienced detectives who have received investigative training from accredited law enforcement academies. In addition to assisting investigations by the various DNR divisions overseeing wildfire response, derelict sea vessels, recreation, and forest practices, our officers frequently work with and provide assistance to other law enforcement agencies.
Enforce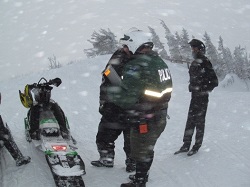 One of the most important responsibilities of our officers is to ensure that those using state trust lands comply with state and local laws as well as the department's rules. Our efforts are often focused on educating the public, but sometimes stricter enforcement is required to ensure public safety. The infractions and citations our officers write in the field are filed electronically into the Statewide Electronic Collision & Ticket Online Records (SECTOR) database used by law enforcement agencies and courts across the state.
Educate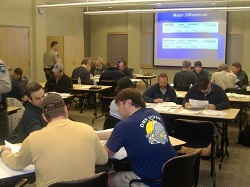 DNR Police Officers are committed to engaging with and educating the public about the safe and sustainable use of state lands. They also coordinate the enforcement and education efforts of the department's civilian staff, including dozens of DNR Recreational Wardens who are trained to assist public education and safety on DNR-managed forestlands, roads, recreation sites, and other areas across the state.
Maintain Skills
DNR Police Officers meet or exceed all training standards set by the Washington State Criminal Justice Training Commission. To maintain their skills, our officers attend official training sessions at least three times a year. These annual refreshers include extended in-service training sessions in all-season, all-terrain vehicle operation, defensive tactics and firearms qualification. All of our officers must complete Detective Basic Training, Wildland Fire Investigation, Off-Road Vehicle and Motorboat Operation, and Chainsaw Operation. Most of our officers have had 10 or more years of field experience with other law enforcement agencies, where they gained training and experience in bomb and arson investigations, hazardous materials, commercial vehicle enforcement and special weapons and tactics (SWAT).
Natural Resources Police Region Offices
Northeast Region (Colville) 509-684-7474
Pacific Cascades Region (Castle Rock) 360-577-2025
Northwest Region (Sedro-Woolley) 360-856-3500
Southeast Region (Ellensburg) 509-925-8510
Olympic Region (Forks) 360-374-2800
South Puget Sound (Enumclaw) 360-825-1631
Natural Resources Police Region Contact Map