Notices of Intent
The following vessels have custody actions pending under the
Derelict Vessel Act
(
RCW 79.100
). If the owner takes no action, the vessel will be seized by the
authorized public entity
listed in the notice.  Once custody is obtained, the agency may use or dispose of the vessel in any appropriate and environmentally sound manner without further notice to any owners.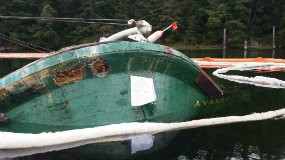 The owner of any vessel listed below may prevent the custody action by following the directions outlined in the notice.
Pending Actions
  Date

  Posted

  Vessel Name | Notice

  Registration

  Location

  Custody

  Date

1/27/20

WN 010 BF

Vessel was sinking in Sinclair Inlet, Kitsap Co

Port Orchard PD has emergency temp possession

1/22/20

WN 5014 SK

Moved to South Park Marina, King Co

2/14/20

1/22/20

WN 9857 NP

Removed from Kopachuck State Park Beach, Pierce Co

2/18/20

1/16/20

Unknown

, a ~22 foot TNY fin keel sailing vessel

WN 96 BX

Port of Port Townsend, Boat Haven Marina, Jefferson Co

2/15/20

1/15/20

Unknown

, ~9 foot white/blue Livingston dinghy

Unknown

Mystery Bay State Park dock, Jefferson Co

1/23/20

1/13/20

USCG 517769

Fisherman's Terminal, King Co

2/12/20

1/13/20

Mione

, 1960 Ives powerboat

WN 4477 JH

Sunk near Twanoh Falls Beach Club, Mason Co

2/10/20

1/7/20

Unknown

, ~20 foot Seaswirl pleasure craft

WN 1958 NV

Fisherman's Terminal, King Co

2/7/20

1/7/20

WN 4697 SB

Half a mile south of Oysterville Beach approach, Pacific Co

2/10/20

12/19/19

WN 5004 MC

1717 N Northlake Pl, Seattle, King Co

12/20/19

12/18/19

WN 9340 LA

Blain Harbor Marina, Whatcom Co

1/18/20
Owner Liability.  If the owner does not take action to remove a vessel declared derelict or abandoned, he or she may be liable for costs such as: 
Administrative costs incurred in the custody action.

Removal and disposal costs.
Costs associated with environmental damages directly or indirectly caused by the vessel. 
Appeals. A vessel owner may contest an agency's decision to take temporary possession or custody of a vessel, or to contest the amount of reimbursement owed to an agency through an appeals process, which is spelled out in the notice of intent to obtain custody.  The type of appeal and the appeal period depends on which authorized public entity takes the action. 
In general, if the contested decision or action was undertaken by a state agency or a local agency that does not have an internal appeals process,  a written appeal must be filed with the
Pollution Control Hearings Board
(PCHB). The appeal must be received no later than 30 days after the custody date.  See the vessel's custody notice for details. 
PCHB frequently asked questions
.