Notices of Intent
The following vessels have custody actions pending under the
Derelict Vessel Act
(
RCW 70.10.040
). If the owner takes no action, the vessel will be seized by the
authorized public entity
listed in the notice.  Once custody is obtained, the agency may use or dispose of the vessel in any appropriate and environmentally sound manner without further notice to any owners.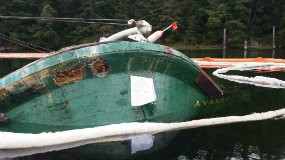 The owner of any vessel listed below may prevent the custody action by following the directions outlined in the notice.
Pending Actions
  Date

  Posted

  Vessel Name | Notice

  Registration

  Location

  Custody

  Date

6/19/18

Unknown

US Navy's Zelatched Point Range Site, Jefferson County

7/20/18

6/18/18

USCG 1142489

Judd Cove, Orcas Island, San Juan County

7/16/18

6/14/18

Unknown

Des Moines Marina Parking Lot, King County

7/1/18

6/14/18

Alaska Night

, a ~42 foot wood hulled/aluminum cabined ex fishing boat

AK 4659 AK

Des Moines Marina Guest Moorage, King County

7/1/18

6/13/18

WN 1421D

Shilshole Marina's "O" Dock, King County

7/6/18

6/4/18

Unknown

Sunken about halfway down the Purdy Spit, Pierce County

7/2/18

6/4/18

Encore

, ~52 foot cabin cruiser

USCG 515256

Anchored in Sinclair Inlet in Port Orchard, WA

7/1/18

6/4/18

WN 7584 LA

Anchored in Sinclair Inlet in Port Orchard, WA

7/1/18

6/4/18

WN 5581 JE

HIN OPY274140175

Aground Little Squalicum Beach, Bellingham, Whatcom Co

6/25/18
Owner Liability.  If the owner does not take action to remove a vessel declared derelict or abandoned, he or she may be liable for costs such as: 
Administrative costs incurred in the custody action.

Removal and disposal costs.
Costs associated with environmental damages directly or indirectly caused by the vessel. 
Appeals. A vessel owner may contest an agency's decision to take temporary possession or custody of a vessel, or to contest the amount of reimbursement owed to an agency through an appeals process, which is spelled out in the notice of intent to obtain custody.  The type of appeal and the appeal period depends on which authorized public entity takes the action. 
In general, if the contested decision or action was undertaken by a state agency or a local agency that does not have an internal appeals process,  a written appeal must be filed with the
Pollution Control Hearings Board
(PCHB). The appeal must be received no later than 30 days after the custody date.  See the vessel's custody notice for details. 
PCHB frequently asked questions
.