Notices of Intent
The following vessels have custody actions pending under the
Derelict Vessel Act
(
RCW 70.10.040
). If the owner takes no action, the vessel will be seized by the
authorized public entity
listed in the notice.  Once custody is obtained, the agency may use or dispose of the vessel in any appropriate and environmentally sound manner without further notice to any owners.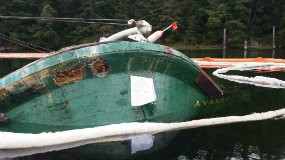 The owner of any vessel listed below may prevent the custody action by following the directions outlined in the notice.
Pending Actions
  Date

  Posted

  Vessel Name | Notice

  Registration

  Location

  Custody

  Date

12/17/18

Tekoa

, a 1972 ~28 foot sailboat

WN 5685 JE

Eagle Harbor Marina, Bainbridge Island, Kitsap Co

1/8/19

12/4/18

Unknown

, a ~19 foot Sunbird fiberglass pleasure boat

WN 0930 LJ

Port of Port Townend boat yard, Jefferson Co

1/3/19

11/27/18

WN 4536 SN

Port of Brownsville

12/26/18

11/26/18

Unknown

, a 1977 red and white ~25 foot sailboat

WN 9765 SL

WN 8111 DX

 WN 7549 JC

Port of Poulsbo, Kitsap Co

12/26/18

11/21/18

WN 2335 RR

Point Defiance Marina, Tacoma, Pierce Co

12/26/18
Owner Liability.  If the owner does not take action to remove a vessel declared derelict or abandoned, he or she may be liable for costs such as: 
Administrative costs incurred in the custody action.

Removal and disposal costs.
Costs associated with environmental damages directly or indirectly caused by the vessel. 
Appeals. A vessel owner may contest an agency's decision to take temporary possession or custody of a vessel, or to contest the amount of reimbursement owed to an agency through an appeals process, which is spelled out in the notice of intent to obtain custody.  The type of appeal and the appeal period depends on which authorized public entity takes the action. 
In general, if the contested decision or action was undertaken by a state agency or a local agency that does not have an internal appeals process,  a written appeal must be filed with the
Pollution Control Hearings Board
(PCHB). The appeal must be received no later than 30 days after the custody date.  See the vessel's custody notice for details. 
PCHB frequently asked questions
.