20-Year Forest Health Strategic Plan: Eastern Washington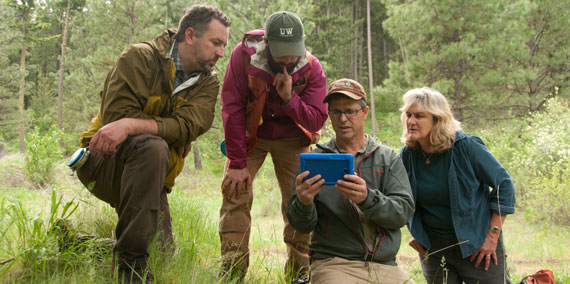 Throughout Washington state forest health has been in decline for several decades. At a broad scale, the decline can be attributed to past management practices, including past wildfire management, that has resulted in uncharacteristically overstocked forests and episodic droughts that have increased the competition among trees for available moisture, resulting in increased stress and loss of vigor. Much of the 10 million acres of forestland in eastern Washington faces serious threats to forest health.
 
In 2017, the Washington State Legislature unanimously passed legislation that provided direction to the Department of Natural Resources related to restoring forest health.
SB 5546 directed the Department of Natural Resources to develop an assessment and treatment framework designed address forest health and achieve an initial goal of assessing and treating one million acres of forestland by 2033.
The Legislature also directed the Department of Natural Resources to use and build on the forest health strategic planning initiated under ESHB 2376 Sec. 308 to promote the efficient use of resources.
HB 1711 directed the Department of Natural Resources to develop and implement a policy for prioritizing investments in forest health treatments to protect state trust lands to reduce wildfire hazards and losses from wildfire, reduce insect infestation and disease, and achieve forest health and resilience at a landscape-scale.
The 20-Year Forest Health Strategic Plan: Eastern Washington was created collaboratively with more than 33 organizations and agencies. It provides a framework grounded in science for our state to plan to restore our forests; to ensure reduced threat of wildfire; and to provide abundant wildlife habitat, clean water, economic opportunities and thriving communities.
The Plan's Vision
Washington's forested landscapes are in an ecologically functioning and resilient condition and meet the economic and social needs of present and future generations. 
The Plan's Mission
Restore and manage forested landscapes at a pace and scale that reduces the risk of uncharacteristic wildfires and increases the health and resilience of forest and aquatic ecosystems in a changing climate for rural communities and the people of Washington State.
The Plan's Overarching Strategy