Yacolt Burn State Forest
Attention:

 Alerts and Closures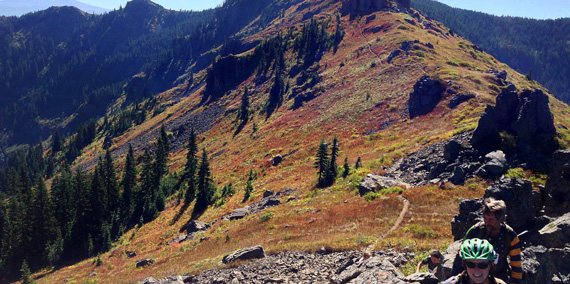 In addition to earning income for state trust land beneficiaries, the undeveloped working forests in this area provide habitat for native plants and animals, water retention and water quality benefits, and diverse
recreation
opportunities that help support local economies.
History
The forest is named for the dozens of wildfires that ravaged Clark, Cowlitz and Skamania counties in southwest Washington during September 1902. With no organized system for fighting wildfires, the fires spread across nearly 239,000 acres and caused 38 deaths and widespread property losses. An extended period of hot, dry weather; high wind; an over-accumulation of timber harvest slash; and human carelessness are among the frequently cited causes of these fires. In response, the Washington Legislature established a state fire warden the following year. In 1908, private landowners formed the Washington Fire Protection Association and funded a system of fire wardens and a program of fire prevention on private lands. 
Recreation
The array of recreation activities in the Yacolt Burn State Forest include horseback riding, off-road vehicle riding, mountain biking, camping and hiking. The Yacolt Burn State Forest is open year-round for hiking, horseback riding, and mountain biking. Whether you're looking to ride off-road vehicles from the Jones Creek Trailhead, take a hike from the Grouse Vista Trailhead, mountain bike from the Larch Mountain Trailhead or camp at the equestrian-oriented Rock Creek Campground, Yacolt Burn State Forest has something for everyone.
Yacolt Burn State Forest Tips
Camping stays are limited to 10 days within a 365-day period.
Some campgrounds close seasonally for inclement weather. Check here before you make the drive.
Don't ride ATVs or motorcycles in campgrounds.
Off-road vehicles are allowed on open gravel forest roads.
Dogs are allowed in Yacolt Burn if they are on a leash. Horseback riders may bring unleashed dogs if they are controlled by voice command.
Be alert for other road users, ranging from heavy vehicles to bicycles, and check your speed accordingly
Target Shooting
The following areas in the Yacolt Burn State Forest are closed to target shooting:
On the entirety of the L-1000 Road.
On the L-1500 Road from four corners eastbound until the rock pit.
On the north side of the L-1400 Road.
On the L-1200 Road, where it is signed "No Shooting."
Anywhere that doesn't meet the WAC criteria.
Trail Maps
A 4x4 vehicle driving down L-1500 towards the Jones Creek ORV Trailhead in Yacolt Burn State Forest. Photo by Mitchell Emerson.
Other Tips for your visit
Don't forget your Discover Pass! Learn more about it at DiscoverPass.wa.gov
Campsites are available first-come, first-served at no additional cost with the purchase of a Discover Pass.
Enjoy a campfire in approved fire pits in designated campgrounds only. Always check for burn restrictions before lighting a campfire. 
Don't Move Firewood. Help protect Pacific Northwest forests by preventing the spread of invasive species. Firewood can carry insects and diseases that can threaten the health of our western forests. Please purchase firewood near your campsite. Find more information here.
Leave No Trace
Please follow the seven principles of Leave No Trace for your safety and the safety of our wildlife, please follow the seven principles of Leave No Trace. You can brush up on them 
here
. Food and garbage that is left behind or improperly disposed of can attract wildlife and create potentially dangerous situations for visitors. Please pack out all food items and garbage. 
NEVER feed wildlife
.​
Recreation Sites
Yacolt Burn State Forest
Located in the Yacolt Burn State Forest, Grouse Vista offers access for hikers, mountain bikers, and horseback riders. No amenities at the parking lot.
Surrounding Area
Located north of Naselle, Snag Lake is a primitive campground situated on the way up to Radar Ridge. The campground has two RV sites and seven walk-in tent sites, fishing docks, and a restroom.
This four-campsite campground, located northeast of Naselle in Pacific County, is highly valued by the recreating public for being an equestrian-oriented camp. Salmon Creek is nearby. The campground has horse corrals, vault toilet. Campsites can accommodate up to a 16-foot RV, though size may vary by site. 
Located north of Naselle, this five tent-only campsite lake is situated on the way up to Radar Ridge. There is a short trail that goes around the lake and a trail connecting to Snag Lake.
This fully forested and streamside campground offers visitors 11 campsites. It's located within Winston Creek Forest Block that offers only dispersed recreation aside from the campground, and is very popular for elk hunting. Winston Creek Campground closes seasonally from Dec. 15- April 15. Accommodates RVs up to 25 feet. 
Other recreation opportunities