Assessing Species Vulnerability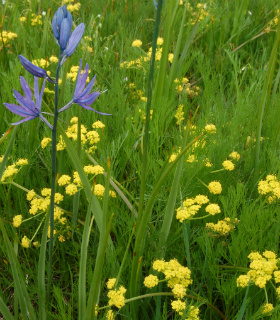 The aim of NatureServe's
Climate Change Vulnerability Index (CCVI)
  is to provide a means of rapidly distinguishing species likely to be most vulnerable to change, defined as the degree to which a species is susceptible to detrimental change (Young et al. 2012). The index considers two primary components of a species' vulnerability to climate change: exposure to changes in climate and sensitivity of the species to changes in climate.
The CCVI scores a species on 17 factors related to its anticipated vulnerability to climate change, such as dispersal ability and habitat specificity. Vulnerability incorporates a species' sensitivity, exposure, and adaptive capacity (Dawson et al. 2011 ). Four factors addressing indirect exposure to climate change, such as presence in areas likely to be affected by rising sea levels are also evaluated. When available, documented responses to climate change (from prior field and/or modeling studies) are also included. The outcome is one of six possible Index categories: three degrees of "Vulnerable" (Extremely, Highly, Moderately), two degrees of "Not Vulnerable" (Presumed Stable, Increase Likely), and "Insufficient Evidence". The Index also provides a report on the key factors that have contributed to the ranking, which can help inform conservation actions.
The Washington Natural Heritage Program also assessed the climate change sensitivity (Case et al. 2015) for several species. This assessment considers nine factors, including a species' physiology, life history, habitat, and non-climatic stressors. These factors were then used to calculate an over-all sensitivity score, with 100 being the highest level of sensitivity. When available, these assessments are included in the table, below.
The results are summarized in the table, below, and reports are available for each of the species. Additional species will be added as assessments are completed for them. Species are listed first by group, then alphabetically by scientific name.
Click on a species' CCVI or CCSD score to open the assessment report (PDF).
1The Element Ranks listed here are current as of 01/04/2019 and may have changed since the CCVI or CCSD scores were determined. For more information on determining species' ranks, visit our Natural Heritage Methodology page.
Citations and Additional Resources
Young B.E., Hall K.R., Byers E., Gravuer K., Hammerson G., Redder A., and Szabo K. 2012. Rapid assessment of plant and animal vulnerability to climate change. In: J. Brodie, E. Post, and D. Doak, editors. Wildlife Conservation in a Changing Climate. Chicago: University of Chicago Press. p 129-152.