Olympic Experimental State Forest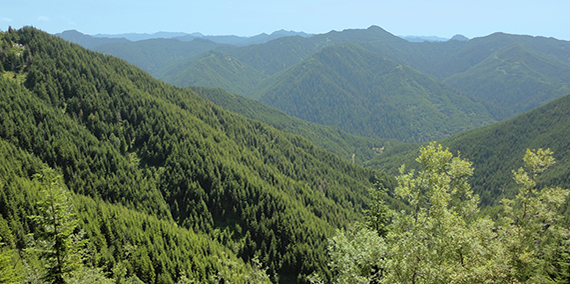 Located on the
western Olympic Peninsula
, the Olympic Experimental State Forest (OESF) is a working forest and a living laboratory. Across 270,000 acres (110,000 hectares) of 
state trust lands
, the Washington State Department of Natural Resources (DNR) produces revenue for trust beneficiaries such as counties and public schools, primarily through timber harvest. DNR also provides habitat for threatened and endangered species and healthy streams for salmon and other aquatic species per the
State Trust Lands Habitat Conservation Plan
and the
Policy for Sustainable Forests
.  DNR meets these objectives through an experimental, integrated management approach.
As this experimental approach is implemented, DNR and its research partners conduct applied
research and monitoring
in the OESF. For example, through the
Status and Trends Monitoring of Riparian and Aquatic Habitat
project, DNR collects data on stream shade, water temperature, large woody debris, and other habitat indicators. This work helps us understand the natural processes that keep the forest ecosystem healthy, determine how forest management affects wildlife and their habitat, and continuously improve forest management. DNR shares what it learns through this website, a biannual newsletter called "
The Learning Forest
," the annual OESF Science Conference, publications, presentations, and field tours. Explore this website to learn more about this extraordinary place.
News and Events
Sixth Annual OESF Science Conference
This year's science conference will be held in person for the first time since 2019! The conference will take place on
Wednesday, May 3 from 8:30 a.m. to 4:30 p.m. at the Rainforest Arts Center in Forks, WA
. The theme is linking science to natural resource management. Join us for oral presentations, a poster session, a panel discussion on the Type 3 Watershed Experiment, demonstrations of less-familiar field monitoring equipment, and more! View the
conference announcement
for more information. The conference is free, but registration is required.
Click here
to register. Please register by
April 19
so we can send you a program. Hope to see you there!
 Learning Groups Field Tour

As part of learning-based collaboration for the 
Type 3 Watershed Experiment
, researchers formed eight learning groups in May 2022. Each group is focused on a different topic: aquatics, carbon, cedar browse, history, Tribal, invasive species, remote sensing, and economics and operations. 
On October 3, learning group members, study researchers, and DNR foresters had a chance to connect in person, exchange updates on their group's activities, and view the study areas in the Olympic Experimental State Forest (OESF). Under unseasonably warm and sunny skies, 22 people visited stream sites to discuss experiential treatments in riparian areas and the expected aquatic responses. They also visited an upland forest to discuss the upland experimental treatments and the challenges of their implementation.
2022 OESF Field Season

Recent Publications