Olympic Experimental State Forest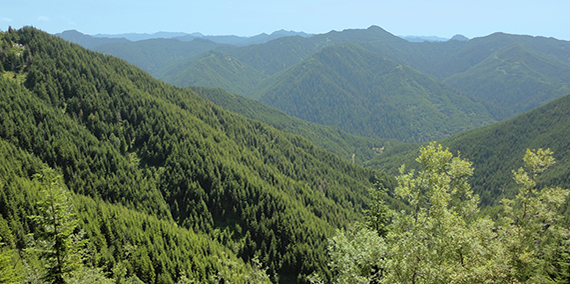 Located on the
western Olympic Peninsula
, the Olympic Experimental State Forest (OESF) is a working forest and a living laboratory. Across 270,000 acres (110,000 hectares) of 
state trust lands
, the Washington State Department of Natural Resources (DNR) produces revenue for trust beneficiaries such as counties and public schools, primarily through timber harvest. DNR also provides habitat for threatened and endangered species and healthy streams for salmon and other aquatic species per the
State Trust Lands Habitat Conservation Plan
and the
Policy for Sustainable Forests
.  DNR meets these objectives through an experimental, integrated management approach.
As this experimental approach is implemented, DNR and its research partners conduct applied
research and monitoring
in the OESF. For example, through the
Status and Trends Monitoring of Riparian and Aquatic Habitat
project, DNR collects data on stream shade, water temperature, large woody debris, and other habitat indicators. This work helps us understand the natural processes that keep the forest ecosystem healthy, determine how forest management affects wildlife and their habitat, and continuously improve forest management. DNR shares what it learns through this website, a biannual newsletter called "
The Learning Forest
," the annual OESF Science Conference, publications, presentations, and field tours. Explore this website to learn more about this extraordinary place.
News and Events
2022 OESF Field Season

2022 OESF Science Conference
The 5th annual OESF Science Conference took place on May 4th. Due to the ongoing COVID pandemic, the event was organized as a Zoom webinar.
Unique from previous conferences, the entire event was dedicated to the
Type 3 Watershed Experiment
, with the goal of launching learning groups with stakeholders, tribes, researchers, practitioners, and land managers. Part of the study's focus on learning –based collaboration, these groups will address topics such as invasive species, carbon, and economic projections of the experimental treatments. The conference included six sessions on topics of interest to stakeholders, and each included a presentation by an expert in the field and a guided discussion. Recordings of the conference are available on
DNR's YouTube channel
. View the
conference program
.
In total, 129 people attended the virtual event, which is the highest conference attendance so far. Between 60 to 90 people attended and actively participated in each session. 
Learning groups are still forming, so it is not too late to join. Everyone is invited! If interested, please send an email to
t3team@uw.edu
. 
Type 3 Watershed Experiment
Participants at the Type 3 Watershed Experiment Stakeholder Engagement Tour.
DNR and the
Olympic Natural Resources Center
recently hosted two events for the
Type 3 Watershed Experiment
. On October 8, 2021, 14 of the study's
principal investigators
met to discuss key elements of the study. The next day, 36 stakeholders joined project staff for a
stakeholder engagement tour
of the study sites. Attendees represented Tribes, environmental non-profits, the forest industry, business development, the University of Washington, Washington State University, Oregon State University, Gray's Harbor College, DNR, and the local community. At each stop on the tour, researchers presented silvicultural tools that will be tested through the study. Discussions with participants yielded excellent ideas for project staff to consider and possibly incorporate into the study plans. For more information on the study and how to get involved, plus the new riparian study plan, silvicultural prescriptions, and more, visit the
project website
. 
Recent Publications