Recreational Target Shooting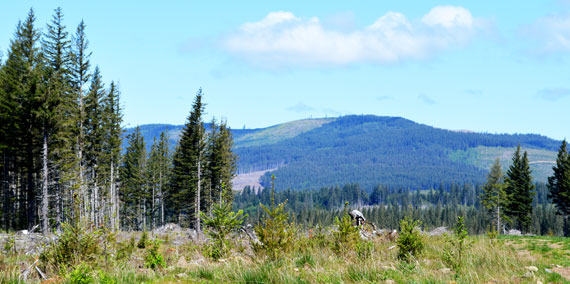 Each decade, the number of people recreating on DNR-managed land has increased. With more people than ever out enjoying their public lands, the number of conflicts between different user groups has also increased. While the vast majority of DNR-managed land is open to target shooting, other visitors and nearby residents sometimes report instances that they feel are unsafe. In response to public requests, DNR is looking at what options may exist for target shooting, just as we periodically do for other recreation activities.
DNR has a history of successfully managing recreation so that the agency still meets its primary trust objectives while allowing all user groups to enjoy these landscapes. DNR recreation staff have done this by learning about the landscapes and discussing with stakeholders where, and how, various types of recreation can best occur. Traditionally, target shooting has not been included in these discussions.
DNR staff has taken ideas generated by the public and researched what similar efforts have worked for other states and agencies. However, any approach will be tailored to each unique landscape. There is no defined timeline for this effort. The work associated with each landscape will move forward on individual timeframes.
Rules and Regulations
Target shooting is permitted on DNR-managed lands where it can occur in compliance with the rules outlined in the 
Washington Administrative Code
 regarding target shooting.
WAC 332-52-145
Firearms and target shooting
(1) What is recreational target shooting? Recreational target shooting is the use of a firearm or bow and arrow on targets and the sighting in of rifles or other firearms on department-managed lands. The department regulates and enforces target shooting on department-managed lands.
(a) The department may restrict target shooting for the reasons set forth in WAC 
332-52-100
.
(b) Persons shall not target shoot carelessly, recklessly, or without regard for the safety of any person, or in a manner that endangers, or is likely to endanger, any person, pet, livestock, wildlife or property.
(c) Persons shall not discharge tracer or incendiary ammunition or projectile devices on department-managed lands. For purposes of this subsection, "incendiary" means causing or designed to cause fires, such as certain substances or bombs. "Tracer ammunition" means a bullet, projectile, or shell that traces its own course in the air with a trail of smoke, chemical incandescence, or fire, so as to facilitate adjustment of the aim.
(2) Does recreational target shooting include hunting? No. This section does not apply to hunting activities, which are subject to the rules and regulations administered by the Washington state department of fish and wildlife.
(3) Where is target shooting permitted?
(a) Persons may target shoot in:
(i) Developed recreation facilities specifically designed for target shooting; or
(ii) Areas with an unobstructed, earthen backstop capable of stopping all projectiles and debris in a safe manner.
Persons shall not target shoot in any other location.
(b) Persons shall not shoot within, from, along, across, or down roads or trails.
(c) Persons shall not shoot on, at, across, along, down, from, or within five hundred feet, of:
(i) Recreational facilities that are not specifically designed for target shooting;
(ii) Residences;
(iii) Businesses;
(iv) Structures;
(v) Other areas as restricted;
(vi) Areas designated or posted as no shooting.
(4) What may be used as a target?
(a) Items that are commercially manufactured for the specific purpose of target shooting or similar targets privately manufactured by the person(s) engaging in target shooting that are consistent with this section.
(b) Unauthorized targets include but are not limited to:
(i) Natural features, except earthen berms or banks used as backstops for target shooting;
(ii) Vegetation;
(iii) Structures;
(iv) Gates;
(v) Vehicles;
(vi) Signs;
(vii) Other department improvements;
(viii) Appliances;
(ix) Furniture;
(x) Glass;
(xi) Privately owned or occupied structures;
(xii) Pets, service animals or livestock;
(xiii) Wildlife;
(xiv) Explosive and incendiary items;
(xv) Garbage of any kind.
Persons shall not target shoot at unauthorized targets.
(5) When is target shooting permitted? Unless otherwise posted, persons shall not target shoot one-half hour after sunset to one-half hour before sunrise.
(6) Is possession of a loaded firearm in or on a motor vehicle permitted on department-managed lands? Persons shall not possess a loaded firearm in or on a motor vehicle, except as provided by state law.
(7) Who is responsible for disposing of spent items resulting from target shooting? Persons who target shoot shall dispose of spent items and remove all shell casings, targets, ammunition packaging, or target fragments resulting from their activity, with the exception of biodegradable clay targets. Failure to remove any such debris is prohibited.
(8) Any violation of this section is a misdemeanor except a violation of subsection (7) of this section is an infraction under chapter 
7.84
 RCW.
Tahuya State Forest
The Shoofly Pit in Tahuya State Forest is closed to target shooting, effective Feb. 1, 2019. Please do not target shoot in areas with signage stating that shooting is not allowed. There may be DNR staff or contractors working in the area due to an upcoming timber sale. The Onion Pit in Green Mountain State Forest is also closed to target shooting.
DNR has identified two alternative target shooting areas:
USFS 2480 Rd (a); 47.572702, -123.082293
USFS 2480 Rd (b); 47.539307, -123.096457
Click the "Start" button below to view the alternative target shooting sites on our interactive map. 

DNR is continuing work with area residents, target shooters, and law enforcement to identify and develop shooting areas that meet the needs of local user groups, residents, and the Department.
Meetings
DNR is continuing conversations around how to best manage target shooting in our Tahuya State Forest to ensure public safety for all forest visitors and nearby homeowners. At a public meeting in June 2017, DNR staff shared two proposed target shooting range locations. You can view meeting documents from this and our May 2016 meeting below. 
Click here for email comments
 from June 10, 2017 to July 11, 2017.
June 20, 2017
May 17, 2016 
Capitol State Forest
Update: No further action has been taken at this time.
Harry Osborne State Forest
Update: No further action has been taken at this time.
Yacolt Burn State Forest
Update: No further action has been taken at this time.