Creating a vision for recreational target shooting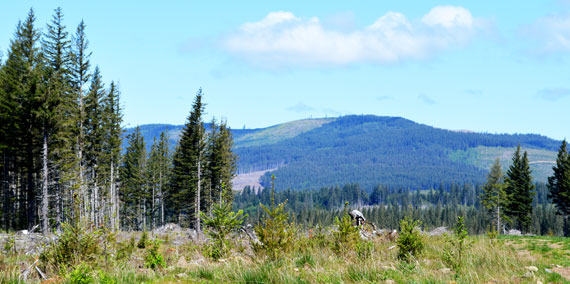 Each decade, the number of recreationists spending time outdoors enjoying DNR's landscapes has increased. As use has increased, conflicts between different types of recreationist has also increased. The vast majority of DNR-managed land is open to target shooting. However, visitors and nearby residents sometimes report instances that they felt were unsafe. In response to public requests, DNR is looking at what options may exist for target shooting, just as we do for other activities periodically.
Tahuya State Forest
DNR is continuing conversations around how to best manage target shooting in our Tahuya State Forest to ensure public safety for all forest visitors and nearby homeowners. At a public meeting in June 2017, DNR staff shared two proposed target shooting range locations. You can view meeting documents from this and our May 2016 meeting below.
Click here for email comments
from June 10, 2017 to July 11, 2017.
The Shoofly Pit in Tahuya State Forest is temporarily closed to target shooting, effective Feb. 1, 2019. Please do not target shoot in areas with signage stating that target shooting is not allowed. There may be DNR staff or contractors working in the area due to an upcoming timber sale. The Onion Pit in Green Mountain State Forest is also closed to target shooting.
A map of some dispersed target shooting sites currently in use in Tahuya State Forest is 
available here
. Check back often as the map is subject to updates. Please continue to follow the rules outlined in the 
Washington Administrative Code
 regarding target shooting. 
DNR is continuing work with area residents, target shooters, and law enforcement to identify and develop shooting areas that meet the needs of local user groups, residents, and the Department.
June 20, 2017
May 17, 2016 
Capitol State Forest
Update: No further action has been taken at this time.
Harry Osborne State Forest
Feedback summary
 from the June 1, 2016 meeting
Update: No further action has been taken at this time.
Yacolt Burn State Forest
Update: No further action has been taken at this time.
Background
DNR has a history of successfully managing recreation so that the agency still meets its primary trust objectives while allowing all user groups to enjoy these landscapes. DNR recreation staff have done this by learning about the landscapes and discussing with stakeholders where, and how, various types of recreation can best occur. Traditionally, target shooting has not been included in these discussions.
Project overview
Since the meetings in Spring of 2016, DNR has improved the online information that it provides regarding target shooting. Staff have also created four separate email notice lists, one for each forest, based on public input regarding how they would like to be kept informed. To be added to an e-mail notification list, 
sign up from this link
.
DNR staff have taken ideas generated by the public and over the summer researched what similar efforts have worked for other states and agencies. However, any approach will be tailored to each unique landscape. There is no defined timeline for this effort. The work associated with each landscape will move forward on individual timeframes. See above for information specific to each forest.
Managing timber, providing opportunities outdoors
Most recreation across DNR-managed lands takes place on trust lands, either those federally granted at statehood or those that counties transferred to the state for management, mostly in the 1920s and 30s. DNR manages these 3 million acres on behalf of specific
beneficiaries
in Washington state to provide a continuous flow of revenue through
revenue-producing activities
, such as timber harvests. Our education systems and local communities use these funds to provide public services. Yet, these lands, which include all State Forests across Washington, are capable of doing much more than just generating revenue. DNR further manages state trust lands to provide public benefits, such as
habitat
for native plant and animal species, water protections, and diverse public
recreation
opportunities.
Learn more
about how DNR funds schools and services.