Aviation Program
The Aviation Program
Washington State DNR Wildfire Aviation is a highly trained air–ground firefighting team available for Initial Attack (IA) rapid response to wildland fires. Wildfire Aviation is comprised of 10 UH-1H(M) Huey helicopters modified for water/suppressant delivery in remote locations with the capability to deliver Helitack crews into otherwise unreachable terrain. Wildfire Aviation employs one program manager, one fixed wing program manager, helitack operations manager, and aircraft maintenance supervisor, 14 U.S. Forest Service certified helicopter pilots, seven aviation maintenance technicians (AMT) who maintain, and configure the aircraft, and one chief pilot who leads the team. Crews prepare for field assignments of 14 days.
The primary bases are located in Olympia and Yakima. During the fire season, there are an additional seven bases statewide.
In addition to being carded by the U.S. Forest Service for interagency firefighting, all assigned pilots carry current Class II Medical Certificates and FAA Commercial Rotor Wing Certificates. Many maintain an FAA Certified Instrument Instructor rating and Airline Transport pilot certification.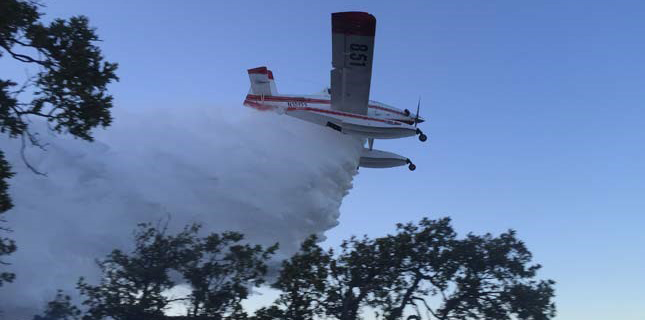 The Helitack Program
The Helitack Program consists of 45 firefighters and support personnel. The Helitack Program Manager, along with two assistant base managers, lead this professional team of firefighters. Available for dispatch throughout all of Washington state, these small teams provide initial attack capacity to fires occurring in areas not easily reached by ground. Rounding out the team are two transportation supervisor, 11 helicopter managers, 11 squad bosses, 12 firefighters, and 10 support drivers. All Helitack modules are also staffed with an incident commander.
The Mission
Helitack and Aviation Programs seamlessly integrate to deliver premier aerial firefighting capabilities to interagency wildfires in Washington state. Aircraft and Helitack crews attempt to respond to emerging fires within five minutes. Planning is conducted in the air using satellite imagery and mobile devices. Once the team arrives on a fire, incident command is established, or reinforced with other responding air and ground resources. As a water source is identified, aerial firefighting commences with each asset following prescribed traffic procedures within the fire traffic area. These efforts typically provide suppression to the active areas of the fire, allowing crews/ground personnel to engage in more direct attack, which in turn establishes rapid containment.
Statewide Coverage
Crews are staged in multiple locations statewide during the fire season and respond to threats to human life, property, and natural resources. Historical fire occurrence, climatology, weather forecasts, fuel conditions, topography, available logistical support, and resource availability are some of the key factors that drive the decision-making process that leads to where these resources are staged. Historically, our crews stage in Omak, Deer Park, Dallesport, Pomeroy, Wenatchee, Colville and Olympia.