Correctional Camps Program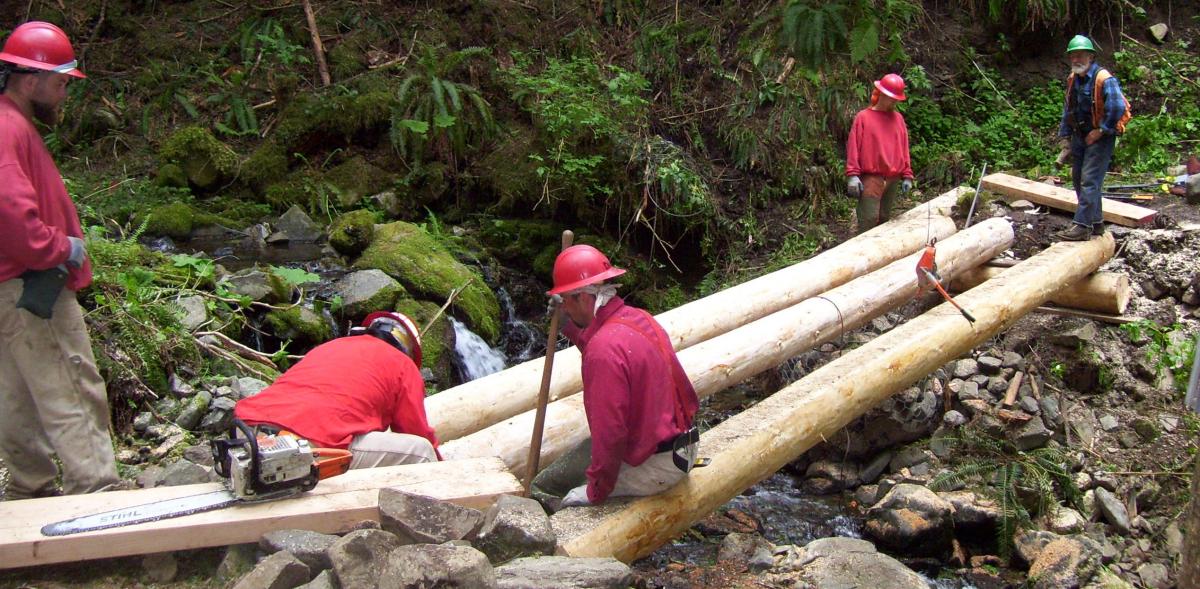 Working jointly with the
Department of Corrections (DOC)
and
Juvenile Rehabilitation Administration (JRA)
, DNR operates correctional camp crews out of one juvenile and four adult correctional facilities. Adult incarcerated individuals volunteer for the program, and DNR staff approve each incarcerated individual acceptance based on their behavior and record.  
​Offender honor camps, as they used to be called, have been providing cost-efficient support for state lands since 1939. The program helps incarcerated individuals avoid idleness while providing cost-effective work on state and other public lands.
How can correctional camp crews help you?
Year-round, incarcerated individuals also perform a variety of forestry-related projects such as trail construction and maintenance, noxious weed removal, tree planting, fuel reduction, illegal dump site cleanup and much more. The program provides affordable and dependable labor force. As a result, incarcerated individuals develop the skills necessary to work in paying jobs after being released and break the cycle of recidivism.
If issues arise, DNR may dismiss an incarcerated individual from the program at any time.
Benefit to Incarcerated Individuals
The program teaches positive work habits, develops job skills, and allows incarcerated individuals to experience the sense of pride that comes from working hard and accomplishing something of value. As they work, the incarcerated individuals are able to earn a small income to help support them upon release. One of the most tangible benefits are that participants are less likely to reoffend after completing their sentence.
Firefighting
Experienced DNR forest crew supervisors oversee correctional camp crews when they work out on wildfires and perform other forest work outside of camp. (The DOC supervises incarcerated individuals when in camp.) Incarcerated individuals receive wildland firefighter training to the standards of the National Wildfire Coordinating Group Firefighter 2 level prior to fire season. Their work on wildfires ranges from cooking meals at fire camp to digging hand lines, mop-up (putting out hot spots), and initial attack on new fires.
History of Correctional Camp Kitchens
DNR began providing mobile fire kitchens soon after the camps program was established in the 1950s. The mission of these kitchens is to provide high-quality hot meals to 150-1,200 firefighters. The kitchens are occasionally used on federal incidents when no national contract kitchens are available. As agency-owned equipment, they can always be held in reserve for exclusive use on state-managed fires.
 
Typically, camps are able to dispatch equipment and crews within two hours, and set up and prepare the first meal the same day. DNR camp managers and crew supervisors manage kitchen operations, and incarcerated individuals provide the labor.
Statewide, there are three DNR kitchens staffed by the following:
Cedar Creek (Thurston County)
Olympic Camp (Jefferson County)
Larch Camp (Clark County)
Correctional Camps
Each Correctional Camp is a minimum- to medium-security facility:
DNR Partners