Washington Geology Library

The Washington Geology Library was created in 1935, and was mandated to collect, archive, and provide access to materials on the geology of Washington State. In addition, publications on tsunamis and emergency management are collected on behalf of the NOAA National Tsunami Hazard Mitigation Program. The library has more than 80,000 items in its collection. Less than a quarter of the collection is available online. Links to those items can be found in the library catalog. A visit to the library is required to view the rest of the collection. Contact us about additional ways to access materials.
SEARCH THE LIBRARY CATALOG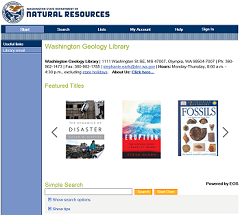 The library catalog is available online. Uses of the catalog include:
Browse the library collection online
Determine if our library has an item you need
Create publication lists based on topics and/or locations
Find links to online documents
Copy citations for reference lists
Visit the library catalog:
The LIBRARY COLLECTION
Type of Publications
Maps—topographic, geologic, historic, coastal, etc.
Theses and dissertations
Environmental impact statements
Watershed analyses
Soil surveys
Journal articles
Reference materials and textbooks
Popular geology books
Publishers
Washington Geological Survey
US Geological Survey (USGS)
Various government agencies (local, state, and federal)
Academic journals such as Geology, GSA Bulletin, AAPG Bulletin, Natural Hazards Review, and others
Geotechnical consultants
Universities
WHO WE SERVE
The public
Geotechnical consultants
Academics and students
Employees of all branches and agencies of government (federal, state, and local)
SERVICES WE PROVIDE
We help people perform basic geologic research and reference searches for topics such as:
geologic hazards
mineral resources
Washington's geology
rock hounding
gold panning
geophysics
water resources
environmental geology
and many others
We also provide the following services:
LIBRARY DONATIONS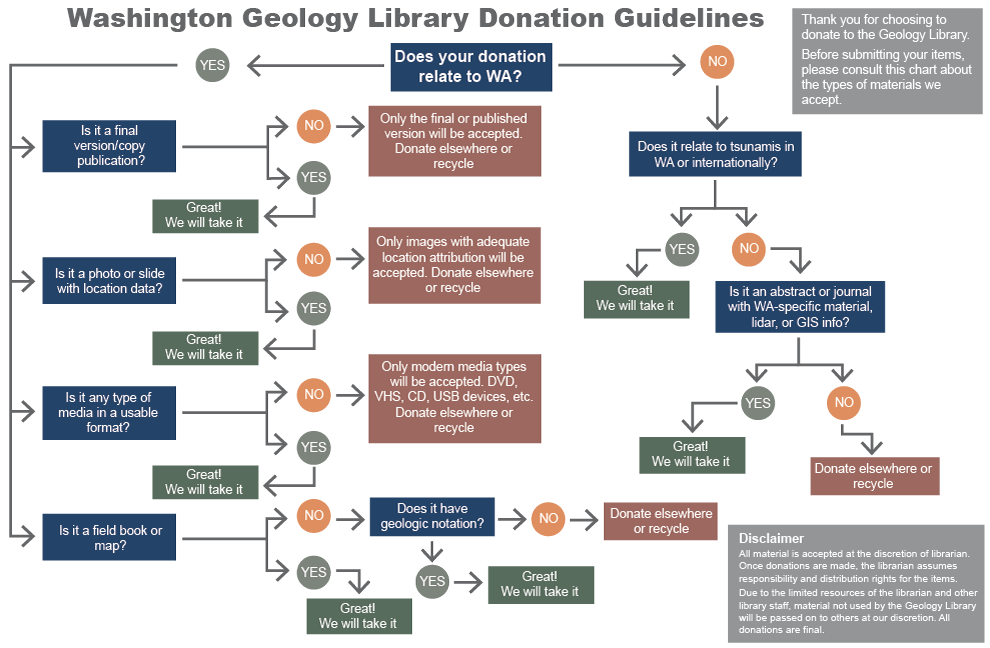 The Washington Geology Library accepts donations within the scope of our collection (i.e. Washington or regional locale, and earth science related). Please review our donation guidelines (click here for printable version) or contact the librarian for more details.
LIBRARY HOURS, LOCATION AND CONTACT
(360)902-1473

Visits By Appointment

Hours: Mon/Wed

9am-12pm

Tues/Thur 9am-4pm

Closed Fridays and

Location: Rm. 173

Natural Resources Building

1111 Washington St SE

Olympia, WA 98501
GEOLOGIC SURVEY PHOTO COLLECTION
| | |
| --- | --- |
| Over the years, the Survey has archived a large number of geology photos and we're now putting them online. Photographs are now searchable through a map, keyword, or category search. | |
HISTORICAL FIELD NOTEBOOK COLLECTION
A collection of digitally preserved historical field notebooks dating back to 1899.
| | |
| --- | --- |
| | |
| Click the image above for a report about this collection and find field notebooks listed in a table. | Click the image above for a visual Story Map about this collection and find field notebooks from an interactive map. |