Tiger Mountain and Raging River State Forests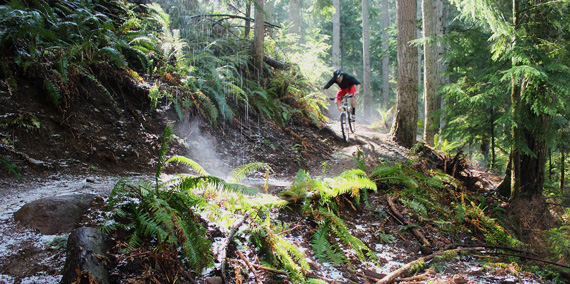 In addition to earning income, these undeveloped working lands provide habitat for native plants and animals, water retention and quality benefits, and diverse
recreation
opportunities.
When working or visiting Tiger Mountain or Raging River state forests, always remember to:
Those interested in learning about planned forest activities in Tiger Mountain, Raging River, or other places nearby may use our
Habitat Conservation Plan
, 
recreation planning
,
Forest Practices Application Review System (FPARS)
, and
State Environmental Policy Act (SEPA)
web pages to find out about proposed and authorized
timber harvests
, thinning projects, road projects, planning efforts, and other activities.
Effective August 2, DNR has banned all outdoor burning statewide. 
Campfires banned on DNR-Protected Lands .
Located near Issaquah, Tiger Mountain and Raging River state forests offer a diverse range of recreation opportunities, including hiking, horseback riding, mountain biking, hang gliding, and paragliding.
To access recreation sites on DNR-managed land with your vehicle, you'll need a

Discover Pass

, your ticket to Washington's great outdoors.

All Tiger Mountain trailheads are day use only. No campgrounds available. You may not camp outside of a designated campground.

Dogs allowed on leash. Horseback riders may bring unleashed dogs controlled by voice command.

Tiger Mountain State Forest is within the Snoqualmie Corridor, which is a no-shooting corridor for

target shooting

. The corridor also includes some of our

natural areas

.
Recreation alert
: Due to timber sales activities, there is a temporary trail closure to the South Tiger Traverse Trail until Fall 2020. A minor trail reroute is planned following the harvest (
view notice
) (
view map
).  
Recreation alert: Expect heavy truck traffic on Main Tiger Mountain Road (#4000) on weekdays. Recommend using Master Link or NW Timber trails to avoid road climb. 
Recreation alert: Logging operations have temporarily closed the East Tiger hiking-only trail.  Planning is underway to re-route some trail segments to more sustainable long-term locations, with an improved route slated to open by spring or summer 2019.
Raging River Trail System
Just off I-90, Raging River is a 17-mile mountain bike-oriented single track trail system with opportunities for hikers. The trails range from easier to difficult and expert-only riding levels, located east of Highway 18 and south of Rattlesnake Mountain, offering expansive mountain views. The trail system is growing and will eventually expand to offer 35+ miles of non-motorized trails. 
Directions: Take I-90 east to exit 27. Turn Right. Travel 0.25 miles and park at the Snoqualmie Point Trailhead.
Tiger Summit
Just off route 18, Tiger Summit offers hiking, horseback riding, and mountain biking. The Tiger Summit Trailhead provides access to a dense trail network provide views of the Tiger Mountain State Forest and the surrounding Snoqualmie Corridor. Find out their allowed uses, below. 
Trail map here (Updated August 2018) 
15 Mile RR Grade: Hike
East Tiger Trail: Hike
Forest Loop Interpretive Trail: Hike (ADA accessible)
Grand Canyon Trail: Hike, horseback ride
Hidden Forest Trail: Hike
Hobart-Middle Tiger RR Grade Trail: Hike
Horse By-Pass: Hike, horseback ride
New! Inside Passage: Mountain bike, hike 
Middle Tiger Trail: Hike
South Tiger Powerline Trail: Hike, horseback ride
South Tiger Traverse: Hike, horseback ride  
Predator Trail: Mountain bike only
Master Link: Mountain bike, hike 
The Legend: Mountain bike only
Easy, Tiger: Mountain bike, hike
Megafauna: Mountain bike only
Following trails are subject to seasonal closure:
Bail Out: Hike, mountain bike
Connector:  Hike, horseback ride, mountain bike
East Tiger Summit: Hike, mountain bike
Fully Rigid: Hike, mountain bike
Iverson Railroad: Hike, horseback ride, mountain bike
Joyride: Hike, mountain bike
NW Timber Trail: Hike, horseback ride, mountain bike
Off-the-Grid: Hike, mountain bike
Preston RR Grade: Hike, horseback ride, mountain bike
Silent Swamp – Hike, mountain bike
Directions: From Issaquah, go east on I-90 to exit 25. Turn right onto SR-18. Go 4.5 miles to Tiger Summit. Turn right. Take Westside Road left .3 miles to site on right.
Visit West Tiger