Tiger Mountain and Raging River State Forests
Attention:

 Alerts and Closures

Recreation alert: 

Effective on Tuesday, July 6, 2021,

portions of several DNR-managed trails

(TMT, West Tiger #3, Cable Line, Seattle View, Section Line, Poo Top, and Preston Trail) that access privately owned forest lands surrounding the summits of West Tiger Mountain

will be temporarily closed

 while road work and forest management operations occur. These closures will take place until further notice. For your safety, respect the closure area.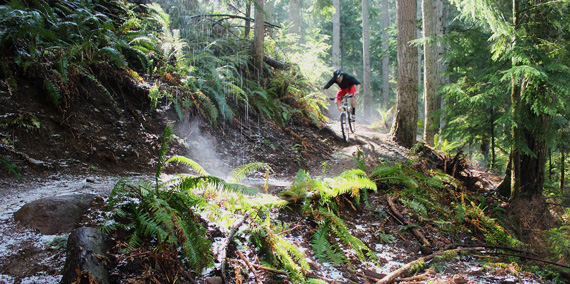 In addition to earning income, these undeveloped working lands provide habitat for native plants and animals, water retention and quality benefits, and diverse
recreation
opportunities.
Located near Issaquah, Tiger Mountain and Raging River state forests offer a diverse range of recreation opportunities, including hiking, horseback riding, mountain biking, hang gliding, and paragliding.
Tiger Mountain and Raging River Tips
All Tiger Mountain trailheads are day-use only. No campgrounds available. You may not camp outside of a designated campground.

Dogs are allowed at Tiger Mountain and Raging River if they are on a leash. Horseback riders may bring unleashed dogs if they are controlled by voice command.

Tiger Mountain State Forest is within the Snoqualmie Corridor, which is a no-shooting corridor for

target shooting

. The corridor also includes some of our

natural areas

.

Be alert for other road users, ranging from heavy vehicles to bicycles, and check your speed accordingly.
Recreation alert
: As of January 3, 2022, Tiger Summit Trailhead and Snoqualmie Point Trailhead are open but have snow and ice present throughout. High-clearance vehicles with all-wheel drive or four-wheel drive are recommended.
Recreation alert
: The Grand Canyon Trail is temporarily closed due to an unsafe trail crossing.
Recreation alert: Logging operations have temporarily closed the East Tiger hiking-only trail. Planning is underway to reroute some trail segments to more sustainable long-term locations, with an improved route opening in the future. 
Recreation alert:
Road work for the
Coal Day sale
is scheduled to begin on Monday, Jan. 25, 2021, and visitors should expect to see heavy equipment and construction activity along forest roads during weekdays. Road work will not require any temporary trail closures and forest management operations are not currently scheduled to begin.
Hunting
Other tips for your visit
Leave No Trace
For your safety and the safety of our wildlife, please follow the seven principles of Leave No Trace. You can brush up on them 
here
. Food and garbage that is left behind or improperly disposed of can attract wildlife and create potentially dangerous situations for visitors. Please pack out all food items and garbage. 
NEVER feed wildlife
.
Recreation Sites
Raging River Trail System
Just off Interstate 90, Raging River is a 17-mile mountain bike-oriented single track trail system with opportunities for hikers. The trails range from easier to difficult and expert-only riding levels, located east of Highway 18 and south of Rattlesnake Mountain, offering expansive mountain views. The trail system is growing and will eventually expand to offer 35+ miles of non-motorized trails. 
Directions: Take I-90 east to exit 27. Turn right. Travel 0.25 miles and park at the Snoqualmie Point Trailhead.
Tiger Summit
Just off State Route 18, Tiger Summit offers hiking, horseback riding, and mountain biking. The Tiger Summit Trailhead provides access to a dense trail network provide views of the Tiger Mountain State Forest and the surrounding Snoqualmie Corridor. Find out their allowed uses below. 
Trail map here (Updated April 2019) 
15 Mile RR Grade: Hike
Forest Loop Interpretive Trail: Hike (ADA accessible)
Grand Canyon Trail: Hike, horseback ride
Hidden Forest Trail: Hike
Hobart-Middle Tiger RR Grade Trail: Hike
Horse By-Pass: Hike, horseback ride
Inside Passage: Mountain bike, hike 
Middle Tiger Trail: Hike
South Tiger Powerline Trail: Hike, horseback ride
South Tiger Traverse: Hike, horseback ride  
Predator Trail: Mountain bike only
Master Link: Mountain bike, hike 
The Legend: Mountain bike only
Easy, Tiger: Mountain bike, hike
Megafauna: Mountain bike only
Crosshaul: Mountain bike, hike
Following trails are subject to seasonal closure:
Bail Out: Hike, mountain bike
Connector:  Hike, horseback ride, mountain bike
East Tiger Summit: Hike, mountain bike
Fully Rigid: Hike, mountain bike
Iverson Railroad: Hike, horseback ride, mountain bike
Joyride: Hike, mountain bike
NW Timber Trail: Hike, mountain bike
Off-the-Grid: Hike, mountain bike
Preston RR Grade: Hike, horseback ride, mountain bike
Silent Swamp – Hike, mountain bike
Directions: From Issaquah, go east on I-90 to exit 25. Turn right onto SR-18. Go 4.5 miles to Tiger Summit. Turn right. Take Westside Road left .3 miles to site on right.
Visit West Tiger
Other recreation opportunities