Maury Island Aquatic Reserve
About the Aquatic Reserve
The Maury Island Aquatic Reserve is located in central Puget Sound and includes 5,530 acres of state-owned aquatic lands in Quartermaster Harbor and along the eastern shoreline of Maury Island. Designated in 2004, the reserve protects extensive eelgrass beds, mudflats, forage fish spawning grounds and includes an
Audubon Important Bird Area
. The Aquatic Reserve is also a popular recreation area with numerous adjacent
public access areas
managed by King County Parks and Vashon Park District.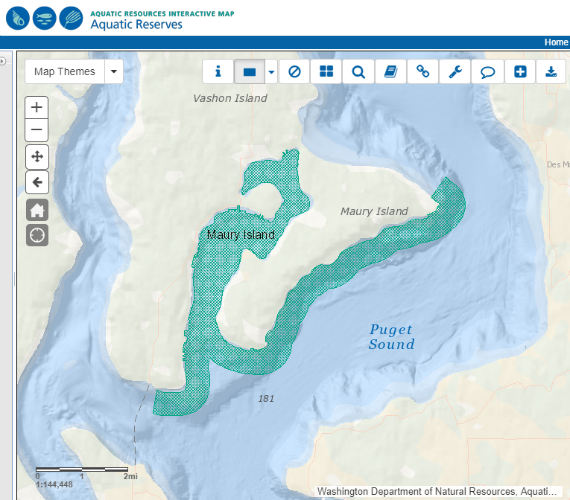 Click
here
or on the image above to launch the Aquatic Reserves Program Data Viewer.
Species and Habitats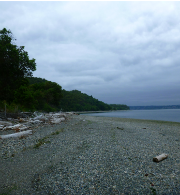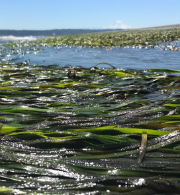 Quartermaster Harbor, with extensive mudflats and eelgrass beds, abundant shellfish resources and waters rich with forage fish, offers refuge for migratory, wintering and resident marine birds. The harbor is designated by the Audubon Society as an Important Bird Area because it supports approximately eight percent of Washington's wintering western grebe population.
An abundance of forage fish species, including Pacific herring, surf smelt and Pacific sand lance, spawn on nearshore submerged vegetation and intertidal beaches. The reserve includes all of the known Quartermaster Harbor Pacific herring stock spawning grounds, representing one of only 21 distinct Pacific herring spawning areas in Puget Sound.
The relatively undeveloped drift cell along the eastern shore of Maury Island is among the longest in Puget Sound, and nearly mile of the drift cell is protected by King County's Maury Island Natural Area and Maury Island Marine Park. This shoreline is an important migratory corridor for juvenile salmon, and Chinook smolts are known to use the shallow nearshore environment as they migrate out of Puget Sound. 
Citizen Science and Stewardship
A Citizen Stewardship Committee, led by the Vashon Nature Center, organizes shoreline restoration monitoring, seastar surveys, forage fish monitoring and cliff-nesting bird surveys in and around Maury Island Aquatic Reserve. The group serves as the site steward for a Department of Natural Resources Acidification Nearshore Monitoring Network (ANeMoNe) site located in the aquatic reserve. The committee also works to educate others about nearshore ecology, the Aquatic Reserve's condition, and planning issues that affect the reserve. 
Citizen Science Reports
Science and Monitoring 
Explore science and monitoring projects conducted on the Maury Island Aquatic Reserve in the Aquatic Reserves 
StoryMap Collection
. In addition, the Aquatic Reserves Program Data Viewer is an interactive map with monitoring data collected by the Aquatic Reserves Program and Citizen Stewardship Committees. Click
here
to view the interactive map.
See what is currently underwater in the Maury Island Aquatic Reserve by visiting Sound Action's live
Nearshore and Orca Camera
, located at Point Robinson Beach on Maury Island. The video is live, but has a 12-hour recording so you can go back and see what happened earlier in the day. You can also check out the highlight reels created by Sound Action on
YouTube
.
Reports and Links
Aquatic Reserve Management 
Quartermaster Harbor Mooring Buoy Management Plan
In 2013, DNR adopted the
Quartermaster Harbor Mooring Buoy Management Plan
to safely, sustainably and legally improve moorage opportunities in the harbor. This plan upholds the management goals for the Maury Island Aquatic Reserve. Click
here
for more information about DNR mooring buoy management in Quartermaster Harbor. 
Implementation Committee
The Maury Island Aquatic Reserve Implementation Committee is a stakeholder advisory group that provides guidance on management priorities and helps implement management actions.