Special Projects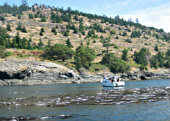 Special Projects are focused studies that address specific research questions that are pertinent to nearshore habitat health.
Zostera japonica Workshop
Zostera japonica (dwarf eelgrass) is one of six seagrass species found in the Pacific Northwest. It inhabits sandy, intertidal habitats throughout Puget Sound and the outer coastal bays of Washington State. It differs from the dominant eelgrass, Zostera marina, in morphological characteristics and depth distribution, but there are other functions and values of Zostera japonica that are not well understood. In September 2010, the department's Aquatic Resources Division co-sponsored a two-day workshop at the University of Washington's Friday Harbor Labs. The workshop convened seagrass experts to discuss what is known about Zostera japonica in Washington State and to identify data gaps. The report summarizes the scientific knowledge and research priorities of Zostera japonica.  
Puget Sound Expedition 1998 Exotics Survey
The Nearshore Habitat Program co-organized the Puget Sound Expedition in September 1998. It was the first systematic survey for exotic species in Puget Sound . The survey focused on marinas that are geographically distributed throughout Puget Sound and Hood Canal . Ten previously un-recorded invertebrates were identified, bringing the total number of known saltwater and brackish water species in Washington State to 52 invertebrates and plants. 
Reports and Project Documentation
Washington State Nearshore Exotics Expedition 2000 
The Nearshore Habitat Program co-organized a seven-day expedition in 2000 to survey exotic organisms in a range of intertidal and shallow subtidal habitat types. Three regions in Washington State were sampled to capture a range of oceanographic conditions and patterns of human use: Elliott Bay, Totten Inlet, and Willapa Bay. Forty exotic species have been identified from the 2000 Expedition. Most of these are native to the North Atlantic or the Northwestern Pacific region, and most were introduced to the Northeastern Pacific with oysters imported for aquaculture, as ship fouling organisms or in ballast water. The 2000 Expedition collected four exotic species in Willapa Bay that were not previously known from that bay. Fewer exotic species were found in Elliot Bay and the Totten/Eld Inlet region (15 species each) compared to Willapa Bay on the outer coast (34 species). The apparent ecological dominance by exotics was slightly greater in Totten/Eld Inlets than in Elliott Bay, and much greater in Willapa Bay.
Reports and Project Documentation 
Habitat Characterization of Puget Sound Based on Environmental Protection Agency's Environmental Monitoring and Assessment Program Methods
In the summer of 1995, Nearshore Habitat scientists described intertidal habitat characteristics of 325 sites around Puget Sound . The sampling design is based on the methods developed for the Environmental Protection Agency's Environmental Monitoring and Assessment Program (EMAP). The sites are distributed throughout the area proportionately by shoreline miles per five sub-basins of the Puget Sound region. This allows for statistically valid sub-basin analysis of the data. The results of analysis provide sound-wide estimates for habitat distribution and abundances, as well as, some of the first regional estimates for shoreline modification.
Reports and Project Documentation 
Shoreline Modification Associated with Single Family Residences
Shoreline modification, such as bulkheading, is known to degrade shoreline habitats by interrupting natural shoreline processes. For this reason, a variety of state and federal statutes regulate shoreline modification projects. However, some state statutes exempt bulkheading projects associated with single-family residences or subject them to less stringent criteria. It has been suggested that these weaker regulations may pose a significant gap in environmental protection. However, the relative proportion of shoreline modification associated with single family residences was not known.
In 2001, Nearshore Habitat Program scientists collected data on the proportion of shoreline modification along state saltwater shorelines associated with single-family residences in order to determine the relative significance of single-family residences in overall shoreline modification. They found that approximately half of all shoreline modification in Washington State is associated with single-family residences (55% +-9%). This finding suggests that shoreline modification associated with single-family residences is a major component of total shoreline modification.