Urban and Community Forestry
Gov. Jay Inslee has proclaimed October as Urban and Community Forestry Month. Fall is a great time to plant trees, but taking care of those trees is a longterm investment.
Planting trees is an investment in a healthy future for all of us. Because of this, we want you to know about proper planting techniques, and it begins below the ground. Check out our Tree Link Newsletter to learn how to plant the right tree in the right place, and celebrate what trees do for you every day.
The Washington State Urban and Community Forestry Program works to educate citizens and decision-makers about the economic, environmental, psychological and aesthetic benefits of trees and to assist local governments, citizen groups and volunteers in planting and sustaining healthy trees and vegetation wherever people live, work and play in Washington state. Our mission is to provide leadership to create self-sustaining urban and community forestry programs that preserve, plant and manage forests and trees for public benefits and quality of life.
The program provides technical, educational and financial assistance to Washington's cities and towns, counties, tribal governments, non-profit organizations, and educational institutions. Explore the links below to learn more.
View the latest issue of Tree Link Newsletter.
View the recent recording of Urban Forestry Today: 2021 Statewide Meeting from Feb 1, 2021. Also view the presentation slides.
Arbor Day and Tree City
The Washington State Arbor Day is always celebrated on the second Wednesday in April. Did you know that proclaiming Arbor Day at the local level can help your community earn the Tree City USA designation? Recognizing Arbor Day is one of four requirements for earning this award. To view the current Tree City USA Communities in Washington state, click here. Also, view a map of the Puget Sound Tree cities, along with a map of all Tree Cities in Washington.
Washington communities that have earned the Tree City USA award are once again eligible for reimbursement by DNR for the planting of an Arbor Day tree or trees. This year, we have bumped the value of the reimbursements from $200 up to $500 so that all Tree City USA communities have the opportunity to plant at least one landscape-sized tree on Arbor Day. Interested Tree City communities are advised to download the reimbursement form and follow the instructions.
Grants and Financial Assistance
The DNR Urban and Community Forestry Program offers grants to improve the health of community forests and to build and develop urban forestry programs. Available grant funding is provided by United States Department of Agriculture (USDA) Forest Service and is passed through to the Washington Department of Natural Resources' Urban and Community Forestry Program to award and administer.
Eligible applicants include cities, towns, counties, tribal governments, educational institutions, and 501(c)(3) non-profit organizations in Washington state.
The 2021 Urban and Community Forestry Grant application window has closed. Be on the lookout for the 2022 Grant Applications this fall, when requests for proposal for projects between $5,000 up to $20,000 will be made available.
Check out this map that shows our grant investments since 2008.

All forms of financial assistance, their availability in a given year, and their associated dollar amounts are dependent on continued funding through annual grant allocations from the USDA Forest Service. In addition, the nature and timing of the application processes are subject to change from year-to-year.
Click here to review the presentation from the 2021 Grant Kickoff Webinar and answers to questions from the seminar.
Matching funds are required by applicants with an in-kind and/or monetary match. Examples of projects eligible for funding include:
Public tree inventories and management plans;
Urban Tree Canopy (UTC) Assessment;
Urban Forest Management Plans;
Prioritized planting plans
Storm or fire response plans
Pest preparedness plans
Ordinance and policy development or revision
Tree planting on public property*;
Tree pruning to restore tree health and structural stability
Education and outreach, such as:
Publications/Materials
Staff trainings
Events
Other innovative projects may include:
Hiring professional facilitators, or other mutually trusted third party organizers, to convene engagement activities that mitigate for any historical or institutional power dynamics;
Promoting community and/or tribal government involvement in addressing environmental health disparities and environmental justice related issues, and developing solutions and future project ideas to address them; and
Tree planting to replace trees lost within the last three years as a result of natural events such as storms, floods, fires, earthquakes, or landslides.*
* Planting projects should be identified within existing urban forest management or maintenance plans. A planting plan and separate 3-year maintenance plan are required for all tree planting projects.
What does a successful grant proposal look like in urban forestry? Below are a couple of examples:
The following is an overview of our financial assistance programs in more detail:
Educational Assistance
Regional Seminars: Seminars are roughly four hours of professional presentations on topics relevant to urban forestry. Seminars are mostly indoors, free to participants and typically planned months in advance in partnership with host cities. To learn more about this year's seminar offerings, please visit our program's electronic newsletter, Tree Link.
On-site Staff Training: Trainings are roughly one to two hours of instruction covering hands-on skills for tree care. These are available to program constituents by request as DNR staff schedules permit.
Stop! Don't Top That Tree: The Washington State Department of Natural Resources (DNR) is promoting an anti-tree topping campaign to increase public understanding of proper tree care. To find out more please see our Anti-Tree Topping Webpage.
The above photo shows a tree that has been topped.
Technical Assistance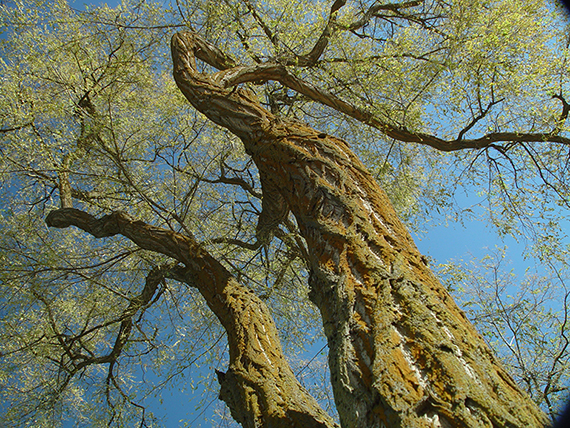 Urban and Community Forestry staff are available to provide technical assistance to local governments, 501(C)3 non-profits, tribes, and educational institutions. Examples of technical assistance include: participating in the review, evaluation, and redrafting of tree ordinances; providing consultation on urban forestry strategies, plans, policies, and practices; helping city staff triage and prioritize program needs, providing training to field staff on topics of pruning, planting, or identification of tree defects; giving presentations to city councils, planning commissions, or civic organizations; and working with citizen tree boards or committees on improving effectiveness. Not sure if the needs of your city fit into any of these categories? Give us a call at 1-800-523-8733 or inquire by email at urban_forestry@dnr.wa.gov.
Washington Community Forestry Council
The Washington Community Forestry Council advises the Department of Natural Resources on policies and programs related to community and urban forestry.
Nominate our next award winner! The Council would like to recognize exceptional leadership, creativity, cooperation and stewardship toward the goals of urban and community forestry in Washington by encouraging nomination of individuals, organizations, community groups, and businesses for a Council award.
The Evergreen Communities Act
The Evergreen Communities Act (ECA) was passed by the Washington State Legislature in April 2008 with support from a coalition of several state agencies, non-profit organizations, utility companies and other stakeholders. The ECA was designed to assist municipalities and jurisdictions across the state to better manage urban forests to increase the benefits and values of the ecological, social and economic services that urban trees provide. Unfortunately, funding for the ECA was swept in 2009 in the wake of the housing market crash and has been unfunded since that time.
This year, the DNR has modernized the ECA and submitted it to the 2020 Washington State Legislature with a funding request to support its implementation. If passed, the ECA will provide funding and technical assistance to Washington cities and towns to develop tree inventories, management plans, and other necessary tools to improve the planting, protection, and management of community trees. Updates to the legislation include prioritizing the distribution of resources to focus on addressing human health disparities, water quality, and protection of aquatic habitats for salmon and orca populations.
Prior to loss of funding in 2009, DNR's Technical Assistance Committee completed an inventory data dictionary and report and Commerce's Task Force completed "A Guide to Community and Urban Forestry Programming" to guide communities writing city policy, ordinances, and management plans.
Urban Forestry Restoration Project
The Urban Forestry Restoration Project is not currently offered due to lack of funding. However, we are exploring opportunities to restore the program in future years.