Forest Health Assistance for Small Forest Landowners
DNR's Forest Health and Resiliency Division offers various programs to help owners of small, forested property in Washington state, whether those landowners are interested in reducing wildfire risk, receiving a forester visit, applying for cost-share assistance, improving the health of their trees, increasing wildlife habitat, or all of the above.
The landowner assistance cost-share and stewardship programs share the objective of helping small forest landowners. The cost-share program focuses on technical and financial assistance to implement forest treatments or write forest management plans for landowners, while the stewardship program focuses on education to help landowners develop their own forest management plans.
Cost Share Program to Reduce Wildfire Risk
Are you a non-industrial forestland owner who wants help managing your lands for optimal forest health, creating a Forest Stewardship or Forest Management Plan, or applying for cost-share assistance to reduce catastrophic wildfire risk? Financial assistance is available for forestland owners in eastern Washington who have up to 5,000 acres of forest and want to make their forests healthier and reduce the risk of catastrophic wildfires.
Request a free consultation
For Northeast Washington (Okanogan, Ferry, Stevens, Pend Oreille, and Spokane counties, and Lincoln County north of U.S. Highway 2), email ne_loa@dnr.wa.gov.
For Southeast Washington (Adams, Asotin, Benton, Chelan, Columbia, Douglas, Franklin, Garfield, Grant, Kittitas, Klickitat, Walla Walla, Whitman, and Yakima counties, as well as portions of Lincoln and Skamania counties), email dnrreseloa@dnr.wa.gov.
Many forestlands in eastern Washington need treatment to become more resilient to insect infestation, disease and wildfire. We're committed to helping landowners protect their property from these threats. As part of the Eastern Washington Landowner Assistance Program, we offer a free consultation to gauge your wildfire and forest health risks, then share in paying for the cost of treatment with qualified landowners.
The program is part of the state's 20-Year Forest Health Strategic Plan for eastern Washington, which calls for maximizing the effectiveness of forest health treatments by coordinating and prioritizing forest management activities across watersheds and large landscapes.
Eligibility
Non-federal owners of forestland in eastern Washington, who own less than 5,000 forested acres in Washington state, are eligible to participate in the cost-share program.
How it works
Complete the form to request a free consultation.
A local forester will contact you at the number you provide to schedule a time for your consultation that works for you.
The forester will visit your property, and assess it for insect infestation, disease and wildfire risk.
You'll receive written recommendations for how to make your forested property better prepared for wildfire.
Fill out the Eastern Washington Landowner Assistance Program application to apply for cost-sharing.
You'll be notified how much of the work will be paid by DNR. Then you can get to work (or hire someone to do it) and feel more confident about your property's ability to weather wildfire.
Frequently asked questions
Who will do the consultation?
A local forester in your area will meet with you.
How long will it take for someone to contact me to schedule a consultation?
You'll be contacted in the order your inquiry was received. We try to be as timely as possible with requests.
How long will the consultation take?
The consultation time depends on the size of the property. Typically, consultations take between 30 minutes to 2 hours.
Will you do the work for me?
We do not have resources to do the work, but we will share the cost of the work up to a predetermined amount for qualified property owners. You will be notified of the amount we will cover when notified whether your application was approved.
How long will it take to find out whether my application for cost-sharing is approved?
It typically takes 1-2 weeks.
What if I want to do the work myself?
Property owners who qualify for the cost-sharing program are welcome to do the work themselves instead of hiring it out. We will provide details on how to get reimbursed for the work should you opt to do it yourself when notifying you of your application status.
Stewardship Planning and Wildlife Habitat
The Forest Stewardship Program provides land management advice and assistance to family forest owners. Forest Stewardship is a nationwide program that helps assess resource conditions and forest health, identify problems and opportunities, and identify management practices to achieve objectives. It is a cooperative effort between the USDA Forest Service and state forestry agencies. In Washington state, the program is administered by DNR's Forest Health and Resiliency Division.
Stewardship and forest-management foresters can help you assess resource conditions and forest health, identify potential problems and opportunities, and recommend management practices to help you achieve your objectives. The program can help you develop and implement a Forest Stewardship Plan to guide current and future management actions and help you qualify for financial assistance, current use taxation, recognition, and certification programs.
Additionally, if you would like information and/or assistance in creating or maintaining wildlife habitat in your forest, you can receive free assistance from our statewide forest stewardship fish and wildlife biologist.
Eligibility
Forestland owners of 5 or more acres are eligible for an advisory site visit at no cost. Owners of smaller acreages can receive consultation from DNR by telephone or email.
Contact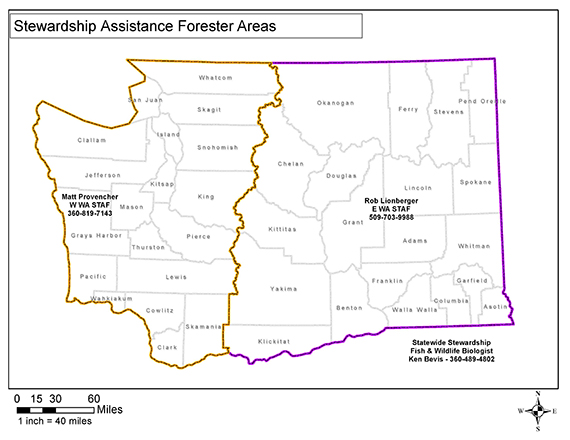 Click here to enlarge the Stewardship Assistance Foresters map.
Additional Resources
Looking for help with forest regulations?