Forest Roads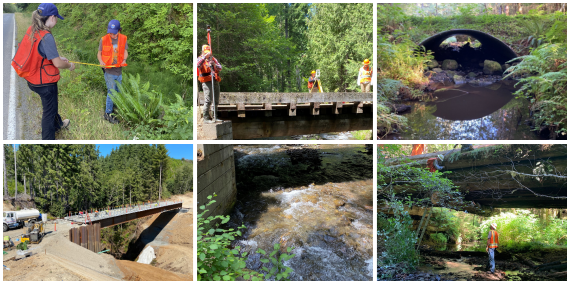 More than 14,000 miles of forest roads crisscross Department of Natural Resources lands, and all are maintained to protect clean water and fish habitat through Road Maintenance and Abandonment Plans (RMAPs). Since 1999 DNR has been working on its RMAP projects and has already completed projects in all six regions. We continue to inspect culverts and roads prior to timber harvests as well as at least once every ten years to ensure the free passage of fish at all life stages. 
DNR and the Washington Department of Fish & Wildlife have worked with
University of Washington's Climate Impact Group
to develop models that estimate the effects of potential climate changes on a drainage basin scale. The model results are used to design culverts and bridges to ensure they provide access for fish passage and can handle potential higher water flows from climate change across their lifespan.
DNR's forest roads are a crucial part of
recreating on state lands
, either on the journey to the trailhead or as a road driving experience. More than 5,700 miles of gravel roads are open to the public on DNR-managed lands, with many miles in large blocks with straightforward access. However, some areas include trust lands surrounded by privately owned lands, and access to public parcels can require complicated easements.
There is an initial cost to design and build roads, but long-term maintenance is key to ensure that lands are accessible for management and recreation. We work to make sure roads do not pollute streams with sediment, and we replace culverts that block fish passage with new culverts and bridges that simulate the natural stream, allowing species to pass beneath the roads.
Our
Engineering Summer Intern Program
 provides a diversity of experiences within DNR, while the intern develops work experience that is carried on to an engineering job after college graduation. We provide a summer experience that values our diverse community while both the intern and DNR determine if a future permanent position with DNR is beneficial to both parties.