Mount Teneriffe Trailhead updates
Update: Mount Teneriffe Trailhead will open July 1, 2017.
DNR will be constructing a new trailhead this spring to provide access to the Mount Teneriffe Trail's hiking opportunities, which includes a summit viewpoint and access to a waterfall. View a 
map
 of the proposed trailhead location.
After completing an environmental review and permitting during the summer and fall of 2016 and putting the project out to bid in January, DNR awarded the contract to construct the trailhead to Weber Construction in February 2017.  Weber is a local firm with experience constructing forested trailheads, including the Mailbox Peak and Denny Creek Trailheads. Construction will begin Monday, February 27, weather permitting. The trailhead completion date is currently June 30, 2017. Construction hours are 7 a.m. to 7 p.m. Monday through Friday. Trails will still remain open during this time. 
For construction related questions or concerns please contact:
DNR Project Manager, Laura Cooper:
laura.cooper@dnr.wa.gov
, 253-740-0008
King County, Joe Barto: 206-296-6600
TESC Supervisor, Andy Glandon, South Fork Geosciences: 425-831-2032 
After business hours for Environmental Safety Related Emergencies: 1-888-437-4771
Mount Si Road safety and enhancements 
King County has granted DNR's Police Officers the authority to enforce traffic and parking regulations on King County roads. As a result, DNR Officers will be able to assist King County in enforcing parking along the SE Mount Si Road this coming hiking season and beyond.  DNR will also continue to work with neighbors and King County to improve signage, enforcement, and parking along the Mount Si Road. 
View meeting notes and presentations from past community meetings:
We'll post future meetings planned for summer and fall on our calendar as the project progresses. Look for meeting materials, including summaries, notes, presentations, and other information, here. You can also visit us at our North Bend Work Center, located off Thrasher Ave., just behind the USFS Ranger Station.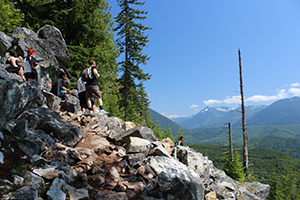 This project is one of several efforts supported by capital funds DNR received from the legislature this biennium to implement projects in the
Middle Fork Snoqualmie
and
Mount Si
natural resources conservation areas (NRCA). DNR identified this project as a high priority in our recently adopted
Snoqualmie Corridor Recreation Plan
, released in March 2015. This plan is intended to guide DNR in developing and managing recreation in this area for the next 10-15 years.