Olympic Experimental State Forest Land Planning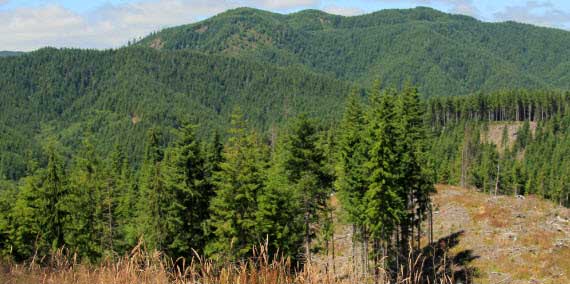 State trust lands in the Olympic Experimental State Forest (OESF) are managed through an experimental approach called "integrated management." Under integrated management, DNR manages state trust lands across the OESF for both revenue production and ecological values, rather than separating state trust lands into large areas managed for a single purpose.
Forest Land Planning
The forest land plan for the OESF provides foresters and managers the practical information they need to implement DNR policies on a day-to-day basis. These policies include the State Trust Lands Habitat Conservation Plan (HCP) and the Policy for Sustainable Forests. Objectives for the OESF include:
Generate a sustainable flow of revenue through the sale of timber. The current (2004-2014) sustainable harvest level for the OESF is 576 million board feet per decade, as approved by the Board of Natural Resources in 2007. By harvesting timber, DNR provides revenue to its trust beneficiaries to meet its fiduciary obligations (DNR 2006).
Implement the riparian conservation strategy for the OESF. The goal of the riparian conservation strategy is to restore and maintain functioning riparian habitat (DNR 1997) to support salmonids and other wildlife species that are dependent on in-stream and riparian environments.
Implement the northern spotted owl conservation strategy for the OESF. The goal of this strategy is to restore and maintain northern spotted owl habitat in each of the 11 landscapes in the OESF to provide support for the recovery of the Olympic Peninsula sub-population of northern spotted owls on adjacent federal lands (DNR 1997).
Implement the OESF research and monitoring program and adaptive management process for the OESF (DNR 1997). Adaptive management is envisioned as a structured process of continuously improving management in response to reliable information gathered through research and monitoring.
All of these objective will be implemented in the context of integrated management. Riparian and northern spotted owl conservation strategies are defined in the department's habitat conservation plan.
Land Plan Documents
Final Land Plan
Public involvement and environmental review
During the planning process, DNR gathered information from local community members, tribes, recreation groups, environmental groups, timber industry organizations, local public officials, members of the scientific community and others.
DNR prepared the draft environmental impact statement (EIS) for the forest land plan in 2010, then revised and reissued it as a revised draft EIS in 2013. The 2013 document included a draft of the forest land plan itself.
Environmental Review Documents
Final Environmental Impact Statement
Revised Draft Environmental Impact Statement