Small Forest Landowner Office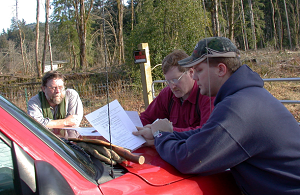 At the Small Forest Landowner Office, we seek to provide you and other family forest owners with technical and financial assistance that helps you meet your objectives for your lands -- whether it's to enhance fish and wildlife habitat, reduce fuels, increase recreation opportunities, improve forest health, produce revenue or all of the above.
Financial Assistance Programs
Family Forest Fish Passage program helps landowners replace culverts and other stream crossing structures that keep trout, salmon, and other fish from reaching upstream habitat.
Forestry Riparian Easement program compensates eligible landowners in exchange for a 50-year easement on "qualifying timber."
Rivers and Habitat Open Space program acquires permanent forestland conservation easements for unconfined channel migration zones and habitat that is critical for state threatened or endangered species.
Technical Assistance Programs
Forest Stewardship program provides advice and technical assistance to help family forest owners manage their lands.

Technical Assistance

program can assist you on any forest practices related questions and with the Forest Practices Application process.
The diversity of Washington state forestlands -- from the rain forests of the Olympic Peninsula to the dry coniferous forests of eastern Washington -- presents a wide range of management opportunities and choices. The Small Forest Landowner Office is here to help you.
Contact us
today.