Bird Island Shoreline Enhancement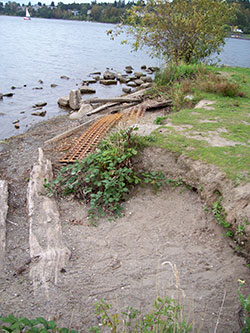 Just off shore from Gene Coulon Memorial Park in Renton, the heavily-visited Bird Island provides habitat to a number of wildlife species, including juvenile salmon who enter Lake Washington from the Cedar River. The Washington State Department of Natural Resources' Aquatics Restoration team has proposed a project to enhance the shoreline habitat of Bird Island while also improving public access to it. 
Small scarps on the island are eroding into Lake Washington, making the bathymetry near the island more shallow. This decreases the available habitat for juvenile salmon and leaves them more exposed to aquatic predators.
Concrete blocks and metal mats have been placed on the shoreline in previous attempts to stabilize the beach. DNR's proposed project would extend and augment recent improvements made to salmon habitat the mouth of the Cedar River by removing that debris and replacing it with native vegetation. That vegetation would stabilize the shore near the island, providing habitat and protection from predators. 
Construction of a boardwalk through the island would provide additional protection for the shoreline by reducing foot traffic while also providing the public a safe place to view the species of fish and birds that live on the island.