Loomis Natural Resources Conservation Area
The Loomis Natural Resources Conservation Area consists of a north block and a south block totaling 24,672 acres. The mountainous landscape ranges from 4,400 to more than 7,800 feet in elevation, including two mountain peaks in the north block — Disappointment Peak (7,146 feet) and Snowshoe Mountain (7,823 feet). Its location in the eastern side of the Cascade Mountain Range results in a relatively dry climate, with cold snowy winters and hot dry summers with frequent lightning storms.
The area is a high-elevation connection between the Cascades, the Okanogan Highlands and the Rocky Mountains; thus, it has a distinctive mixture of vegetation, including mountains draped with vast forests of lodgepole pine, Engelmann spruce, and subalpine fir, interspersed with large openings of mountain sagebrush parklands and subalpine meadows. The lodgepole pine forests are a key habitat for Canada lynx, which inhabit them throughout the year, feeding primarily on snowshoe hare. Quaking aspen stands also are scattered across the landscape, offering important habitat for moose, elk, and deer as well as a variety of birds. At the highest elevations, the trees become increasingly sparse, finally yielding to the grasses and wildflowers of alpine meadows. 
Other tree species, such as whitebark pine, also become more common as the 'treeline' is approached. Whitebark Pine is an important food resource for a number of wildlife species that eat the seeds, including several bird species and both black and grizzly bears. This tree species was recently designated a candidate for listing under the Endangered Species Act due to range-wide declines attributed to a combination of altered fire regimes, climate change, disease and insects.
Fire is a natural, recurring component of the ecology at Loomis NRCA. Past stand replacement fires in and around the NRCA occurred close enough together to create large areas of relatively even-aged lodgepole pine forest. In 2006, a large lightning-ignited wildfire, known as the "Tripod Complex" burned nearly 175,000 acres in the region, including more than 5,000 acres of the south block of Loomis NRCA. 
Other habitats within the NRCA include extensive areas of rock and talus, streams and riparian corridors, and wetland meadows. Among the 11 plant species of conservation concern are several that primarily are found in more northerly, boreal ecosystems or to the east in the Rocky Mountains.
Features protected:
Extensive montane habitats including subalpine forest and shrub-steppe, grassland meadows, quaking aspen stands, wet meadows and streams, and Douglas-fir forest. Eleven plant species of conservation concern are protected in the Loomis NRCA. Various habitats of the Loomis support nine wildlife species ranked as critically imperiled, vulnerable to extinction or rare in Washington State: grizzly bear, Canada lynx, gray wolf, wolverine, northern goshawk, plus four butterfly species.
Ecoregion:
Okanogan Ecoregion
 (Okanogan County) 
Science, Research and Monitoring
Public and private universities, other research institutions or individual researchers may contact DNR to propose a research project on the Loomis NRCA. If you are interested in pursuing a research project, please contact David Wilderman, Natural Areas Program statewide ecologist, at
david.wilderman@dnr.wa.gov
.
Examples of research projects
Canada lynx research and monitoring

Radio-tracking and habitat study, in cooperation with Washington State University
Snowshoe hare monitoring to assess population densities and fluctuations of this prey species
See the DNR Lynx Habitat Management Plan

Whitebark pine seed collection for blister rust resistance testing
Environmental Education and Public Access 
Loomis NRCA has an extensive network of trails with developed trailheads providing hiking and equestrian access as well as environmental education. Many of the trails have undergone major renovations in recent years, from new bridges and turn piking to re-routing and tread work. Loomis NRCA offers an authentic backcountry experience.
No pets allowed to help conserve the ecology of this site.  
Garbage service is not provided. Pack out what you pack in.  
Day use only.
For more information about recreational or educational visits to Loomis NRCA, contact the DNR Northeast Region Natural Areas Manager, Brett Walker. 
Volunteer and Stewardship Opportunities 
Renovations to Loomis NRCA bridges and trails could not have been accomplished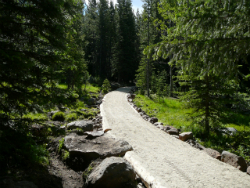 without the help and support of our dedicated volunteers, individually or through organized groups such as the Back Country Horsemen of Washington, Okanogan County Association of Trails, and Pacific Northwest Trails Association.
Volunteers from the Washington Rare Plant Care & Conservation Program (Rare Care) at the University of Washington Botanic Gardens assist with monitoring the status of rare plant populations within the NRCA. If you are interested in volunteer and stewardship opportunities in the Loomis NRCA, please contact the DNR Northeast Region natural areas manager.
Restoration at Loomis NRCA
Following the 2006 Tripod Complex wildfire, most of the NRCA was allowed to recover on its own from this naturally occurring event. However, a number of restoration efforts were undertaken to rehabilitate areas used as firelines, staging areas, safety zones and other areas negatively affected by fire suppression activities. In addition, selected areas of burned habitat were restored to aid in resource protection and ecological recovery within the area. 
DIRECTIONS TO THE NORTH BLOCK OF LOOMIS NRCA 
From Tonasket, Washington, travel west to the town of Loomis. 
To reach the Fourteen Mile Road access point, continue north of Loomis on Loomis/Oroville county road for 2.1 miles towards Palmer Lake. Turn left on Toats Coulee Road and travel 5.7 miles. Turn right onto Nine Mile Road and travel 1 mile. Turn left onto Fourteen Mile Road and continue until you reach the NRCA's Disappointment Trailhead, which includes an outhouse facility with equestrian unloading and hitching rails. Day Use is permitted with overnight parking permitted for remote camping only. 
To reach the Cold Creek access point, from the town of Loomis, continue north for 2.1 miles on the Loomis/Oroville county road. Turn left on Toats Coulee Road and travel 5.7 miles.  Turn right onto Nine Mile Road and continue 8 miles until you reach the Cold Springs Campground Recreation Area trailhead. Campground includes outhouse restrooms with 6 camping sites. At the upper overlook area 6 additional sites are available and an outhouse is available at the overlook parking area. An NRCA sign with Kiosk is located centrally in trailhead parking area. Corrals nearby are shared with ranchers and can be used by equestrian recreation users for overnight holding areas. 
DIRECTIONS TO THE SOUTH BLOCK OF LOOMIS NRCA
To reach the Lone Frank Pass area, from Conconully, Washington travel north on USFS Road 38 for 13 miles. This route is not recommended for passenger cars due to road conditions and changes in weather. High elevations and slow travel is likely, and overheating of vehicles sometimes occurs during summer months.
A Washington State
Discover Pass
is required for parking at this site. This funding helps DNR manage these important natural areas across the state.