Selah Cliffs Natural Area Preserve
Selah Cliffs Natural Area Preserve (NAP) was established in 1993 to protect the largest known population of basalt daisy (Erigeron basalticus), a state-listed threatened species known from only a 10-mile stretch of the Yakima River Canyon. The basalt daisy makes its home on the basalt cliffs of the site where few other plants can grow, rooting into cracks and fissures on the rock faces. The daisies are typically in bloom May through October, with a peak in June. The cliffs, much of which are covered by colorful lichens, also provide nesting and roosting habitat for raptors including prairie falcons, red-tailed hawks and kestrels. 
Selah Cliffs is situated in one of the driest parts of the state, in a landscape of bedrock and talus formed from the approximately 12 million year old Pomona basalt flow. This basalt lava flow traveled from west-central Idaho to the Pacific Ocean (600 km), making it the longest known lava flow on earth. Other features of the 301-acre NAP include the rocky floodplain of Selah Creek at the foot of the cliffs, and areas of shrub-steppe habitat typified by the low-growing stiff sagebrush, the taller big sagebrush, and bunchgrasses such as Sandberg's bluegrass, bluebunch wheatgrass, and needle-and-thread. 
Features protected:
Basalt daisy and prairie falcon
Ecoregion:
Columbia Plateau
(Yakima County)
Environmental Education and Public Access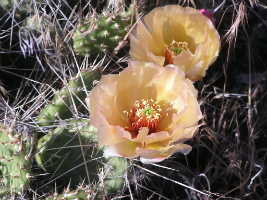 Selah Cliffs NAP has an interpretive trail system including an ADA accessible crushed gravel half-mile loop and several interpretive signs. Stewards are available by request to lead educational field trips, as time permits. Parking can accommodate five vehicles. For more information about educational visits to Selah Cliffs NAP, contact the DNR Southeast Region natural areas manager, listed here. To help conserve the ecology of this preserve, dogs are not allowed. An additional interpretive sign and cliff-top view of the preserve are located at the Department of Transportation Selah rest area off of southbound Interstate 82 around mile marker 25.
A Washington State
Discover Pass
is required for parking at this site. This funding helps DNR manage these important natural areas across the state.
Science, Research and Monitoring
Public and private universities, other research institutions and individual researchers may contact DNR to propose a research project at the site. If you are interested in pursuing research at Selah Cliffs, please contact David Wilderman, natural areas ecologist, at
david.wilderman@dnr.wa.gov
.   
Examples of past research and monitoring projects 
Basalt daisy monitoring — Natural Areas Program staff and volunteers conduct periodic counts of the basalt daisy population to monitor its status
Pollination ecology of the basalt daisy
Site Stewards
Volunteer site stewards are needed to monitor the site, remove invasive species, check perimeter fences and interact with visitors. If you are interested in becoming a site steward, please contact the Southeast Region natural areas manager for more information.
Restoration at Selah Cliffs NAP
Lands within the preserve were previously settled and grazed. Current management includes control of invasive weeds, primarily diffuse knapweed and cheat grass. Future land management will include restoration of native species in the previously impacted areas of the preserve. 
Directions to Selah Cliffs NAP
An access road and parking lot are just off of Highway 821, south of mile marker 3. The entrance is approximately 7 miles north of Yakima or approximately 28 miles south of Ellensburg. No restroom facilities are available onsite.