Evacuation
Tsunami evacuation routes were developed to assist coastal residents and visitors find safer locations in case of an earthquake and tsunami. The published brochures are for specific areas. The interactive map allows you to search for a particular address or location.
Evacuation Brochures
This map shows all completed tsunami evacuation brochures for Washington. Clicking on a region will download the brochure. Use your scroll wheel or the zoom buttons in the upper left corner to zoom.
Interactive Maps and Data
The Geologic Information Portal has a Tsunami Evacuation singe-topic map that allows you to search for addresses and locations of interest in Washington. The information on the portal and in the brochures is the same and is the most up-to-date source of information for the state.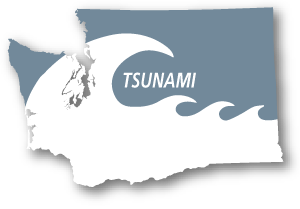 The Northwest Association of Networked Ocean Observing Systems (NANOOS) has developed an interactive map of tsunami evaucation zones, routes, and assembly areas for both Oregon and Washington. They have a desktop site, and a mobile app available through the itunes store for free. NOAA has also developed a mobile app of tsunami evacuation routes for android devices.
NANOOS Web Visualization
for tsunami evacuation
zones
NANOOS Mobile App for
tsunami evacuation zones
(for Apple devices)
The Federal Emergency Management Agency (FEMA) has created a 3D visualization of tsunami inundation for the City of Aberdeen. Click here for a fullscreen version.