State trust lands map offers Washington insights
The Washington State Department of Natural Resources (DNR) has released an updated State Trust Lands map to help citizens see where, and how, these lands are being managed for conservation, recreation and revenue.  
"This is Washington's treasure map," says Commissioner of Public Lands Peter Goldmark. "These state lands generate money for schools and counties, habitat for native plants and wildlife, jobs for people and space to recreate and enjoy. In conserving and managing these magnificent landscapes we're helping to ensure they continue to benefit us all."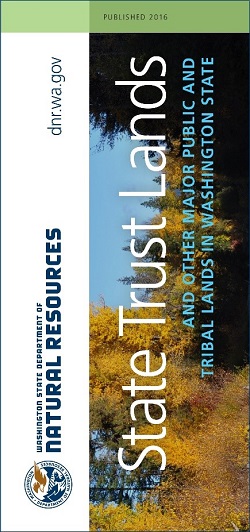 Of the 3 million acres of land managed by DNR, the majority, including state forests, are part of a trust system managed on behalf of schools and counties to provide sustainable revenue. The agency oversees activities such as timber harvests, agricultural and other leases, which generates approximately $170 million per year. The lands are also managed to provide environmental benefit and wildlife habitat, and recreation, including 71 campgrounds and more than 1,100 miles of trails. 
The map also highlights another kind of landscape under DNR's protection; Washington's most precious natural areas. These areas, comprising more than 160,000 acres, are some of the last remaining examples of healthy native ecosystems and are often home to rare plants and animals. 
Many other facets of the agency's efforts are covered by the map. It features information on fighting wildfires, recreation volunteerism, work done by DNR volunteers, sustainable forestry across public and private lands, and protection of salmon habitat and clean-up of derelict vessels. The map also highlights a notable addition – the 50,241-acre Teanaway Community Forest north of Cle Elum. 
Last updated in 2010, the new full-color map is 37 by 24 inches. The public may order the map mailed to them for $3.50 from
www.dnr.wa.gov/maps
, or pick one up in person, for no cost, at one of the following DNR locations:
•    Natural Resources Building atrium, 1111 Washington St. SE, Olympia, WA 98504
•    Northeast Region Office, 225 S. Silke Rd., Colville, WA 99114
•    Northwest Region Office, 919 N. Township St., Sedro Woolley, WA 98284
•    Olympic Region Office, 411 Tillicum Lane, Forks, WA 98331 
•    Pacific Cascade Region Office, 601 Bond Rd, Castle Rock, WA 98611
•    South Puget Sound Region Office, 950 Farman Ave N, Enumclaw, WA 98022
•    Southeast Region Office, 713 Bowers Rd., Ellensburg, WA 98926
MEDIA CONTACT